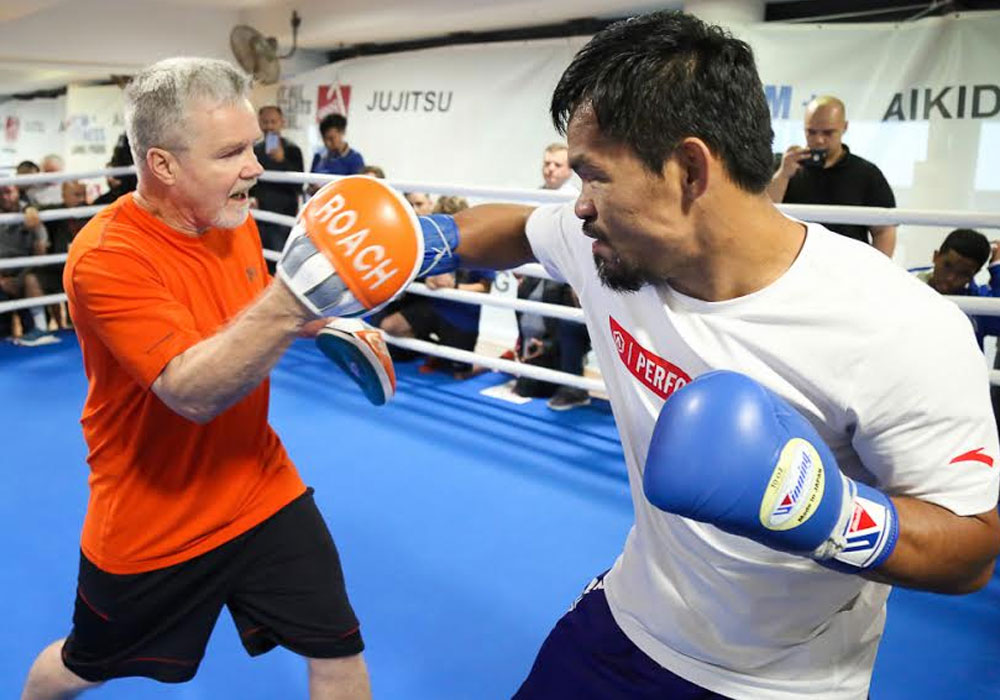 Manny Pacquiao hits the mitts with Freddie Roach during his media workout at a gym inside Suncorp Stadium in Brisbane, Australia on Tuesday. | Wendell Rupert Alinea
Roach sees Horn coming out with guns blazing
BRISBANE, Australia – Freddie Roach is not anticipating the opening round of Manny Pacquiao's fight with Jeff Horn on Sunday to be a feeling-out round.
Roach on Tuesday said he expects Horn to storm out of his corner and try to take Pacquiao's head right at the opening bell.
"I think he's gonna start quick. If I was him that's what I'd do," Pacquiao's longtime trainer told the press on Tuesday.
After all, according to Roach, that's what a hungry title challenger would do.
"I warned Manny to be ready in the first round. I think there's gonna be explosion right away," the cornerman added.
Horn, who prior to being announced as Pacquiao's next opponent was relatively unknown, is treating his WBO welterweight title duel with the Filipino icon to be his stepping stone to boxing superstardom.
And now that he's already in the limelight, Horn wants things to stay that way, and a victory over Pacquiao will definitely catapult the 29-year-old Brisbane native to greater heights.
For his part, Roach, once a contender himself who'd been hungry for recognition, can sympathize with Horn.
"I think he realizes that he's fighting for a world championship. Not everybody gets to fight for a world title," he bespectacled trainer continued.
Horn, a huge underdog, has nothing to lose and lots to gain with a massive upset at Suncorp Stadium a few days from now.
"I'm sure he's taking advantage of it (title shot)," said Roach.
"Whatever he brings, we're ready for it."