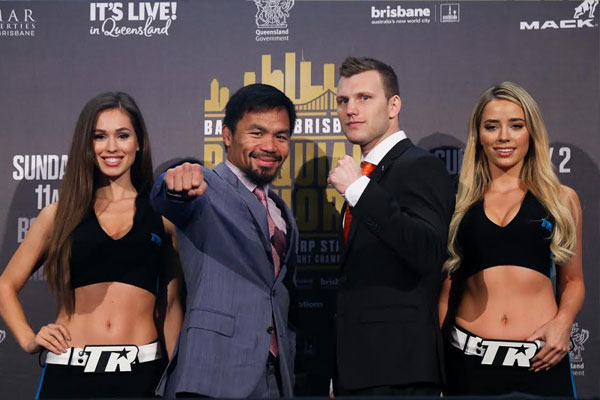 Manny Pacquiao and Jeff Horn during Thursday's press conference at the Suncorp Stadium in Brisbane, Australia. | Wendell Rupert Alinea
Horn won't go anywhere, trainer assures Pacquiao
BRISBANE, Australia – Manny Pacquiao won't have a hard time looking for Jeff Horn's head when they duke it out in the ring at the Suncorp Stadium here.
Because Horn will always be right in front of him.
Horn's trainer, Glenn Rushton, assured fans that his ward will stay close to Pacquiao, bring the action, and not run around when the Brisbane native tries to take the WBO welterweight championship on Sunday.
"We have a very simple plan. We intend to get in front (of Pacquiao), and we intend to stay in front the whole while," the unspoken Rushton, a wealthy investment banker, told the audience at a boxing gala luncheon Friday at the Brisbane Convention & Exhibition Centre.
In the presence of boxing greats Roberto Duran and Australian Jeff Fenech, Rushton once again boasted of the 29-year-old Horn's readiness for the bout.
More importantly, Rushton vowed that Horn will give Pacquiao what he likes, and that is to go toe-to-toe with the Filipino icon.
"Pacquiao will try to wear you down, but Jeff Horn won't run away. He will be in, close to Pacquiao's body," the cornerman added.
That might not be a wise move against Pacquiao, who thrives against opponents that prefer to stand their ground instead of boxing their way out of harm.
But Rushton believes Horn can handle it.
"It's very volatile, but Jeff does something beautifully. He integrates his attack really well with his defense. He's got a terrific eye as well, he sees punches coming. He's almost in a trance-like state out there," he continued.
"We intend to take Manny Pacquiao to very deep territory. We think this is going to be a war on Sunday."
Pacquiao came in an hour late, made a brief speech about the fight, sat momentarily at a table, then quickly left when he was starting to get mobbed for photos.
Horn, for his part, did not get on the stage to speak. That's why his trainer did all the talking.
"I've always said that a big young man will beat a good small man. And Jeff is a bigger man, a stronger man, the younger man," said Rushton.