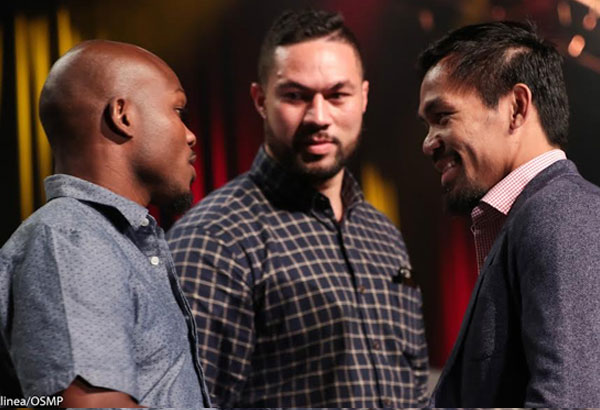 Timothy Bradley greets Manny Pacquiao while heavyweight champion Joseph Parker looks on during Friday's gala event at the Brisbane Convention & Exhibition Centre in Brisbane, Australia. | Wendell Rupert Alinea
Bradley warns Horn: Pacquiao is deceiving
BRISBANE, Australia – With Manny Pacquiao, what you see isn't necessarily what you'll get.
This is the strong message by Timothy Bradley to Jeff Horn, whose camp believes they have carefully studied Pacquiao and already knows the Filipino icon from head to toe.
Speaking at an event called "Boxing Royalty Luncheon" at the Brisbane Convention & Exhibition Centre here Friday, the former welterweight champion shared that he, too, carefully analyzed Pacquiao's fighting style prior to his first bout with the Filipino in 2012.
He found out that clashing with Pacquiao in the ring is an entirely different matter.
"At first I watched him (Pacquiao) on film, but then when you actually get in there and fight him, he's actually faster than what you saw on film," Bradley told those in attendance in a short question-and-answer session.
Seated alongside Bradley as the event's "VIPs" were WBO heavyweight champion Joseph Parker, boxing legends Roberto Duran and Jeff Fenech, renowned ring announcer Michael Buffer, veteran commentator Bob Sheridan and Top Rank Inc. boss Bob Arum.
Again, Bradley warned Horn about the attributes of Pacquiao, who stakes his WBO welterweight title against the Brisbane native on Sunday
"His footwork is a lot quicker. He's a lot smarter than what you saw on film," added Bradley, who knows Pacquiao well, having fought him three times.
"He's very deceiving," he continued.
Bradley then talked about how equally great Pacquiao is outside of the ring, before going back to describing how the fighting senator is as an opponent.
Struggling to find the right word, Bradley went for a long pause, prompting Fenech, the Australian boxing great, to butt in.
"Beatable!" shouted the Horn-allied Fenech, sending the room into frenzy.
Bradley just smiled and sent his regards to the challenger.
"Listen. Jeff Horn, good luck to his camp," he said.