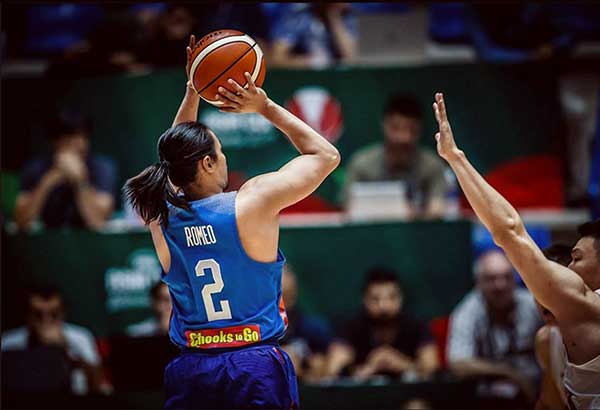 Terrence Romeo fuels Team Gilas firepower in the last two quarters and finishes with 26 points as the Nationals toppled the Chinese, 96-87. FIBA.COM
MANILA, Philippines - Undermanned, under-prepared and underdog, Team Gilas leaned on its heart and pride and called on Terrence Romeo to defuse a creeping meltdown and pull off a 96-87 victory over China in a stunning reversal that reverberated across the country.
It was the Nationals' first assignment in group eliminations of the 2017 FIBA Asia Cup at the Nouhad Nawfal Sports Complex in Beirut last night but it felt like the championship over the country's bitter Asian rival as Gilas avenged their heartbreaking setback to the Chinese two years in the Changsa finals.
Nobody thought they could hack it out with an all-Filipino crew barely assembled three weeks before the Asian conclave.
Minus big men naturalized Andray Blatche and June Mar Fajardo, the Nationals bucked overwhelming odds, putting up a fiery start then fighting back from three points down in the stretch to fashion out the huge upset of the defending champs that rocked the competition.
Gilas takes a breather today before plunging back into action against Iraq at 4 p.m. tomorrow (9 p.m. Manila time), gunning for a second win that could well guarantee its passage into the knockout phase of the 12-day, 16-nation meet.
Romeo played what's easily his best game yet on the international stage, personally saving Team Phl from impending collapse with his 14-point explosion in the fourth period.
The GlobalPort star playmaker/scorer fired a game-high 26 points and almost singlehandedly fended off the Chinese' endgame charge after trailing through the first 35 minutes of the contest.
The Gilas scoring machine stood his ground in a shootout with Chinese superstar point guard Guo Ailun. And when Guo exited on fouls, Romeo toyed with even much taller defenders, lobbing three-pointers and weaving through a phalanx of defenders with his dazzling crossover moves.
He fired 5-of-7 three-pointers, two in a decisive eight-to-nothing roll that put Team Phl back on top, 92-87, after China seized a three-point lead at 87-84.
With the five-point lead, Romeo took a steal to all but break the back of the Chinese team that the Philippines had not beaten in a long while.
The whole team put a brilliant effort together early on as they got to a swashbuckling start and dominated most of the way.
Fil-German Christian Standhardinger, Jayson Castro and Matthew Wright also finished in double figures as Gilas avenged its 67-78 loss to China in the gold-medal game in Changsha in 2015.
Already minus Blatche and Fajardo, the Nationals became a lot more shorthanded on the early ouster of Calvin Abueva in sending Chinese enforcer Li Gen down on the floor with a head butt to the face late in the first quarter.
It was a physical, emotional battle also marked by a deliberate foul by Romeo and a technical foul by Almazan.
The Filipinos, however, kept their composure and stayed intact even in the face of China's determined chase in the fourth anchored by Guo, gunner Zhou Peng and young behemoth Yu Dehao.
A big blow on the Chinese was Castro drawing Guo's fifth and last foul with 4:40 left in the contest.
The scores:
Philippines 96 – Romeo 26, Standhardinger 15, Castro 13, Wright 12, Pogoy 9, Almazan 9, Aguilar 7, Norwood 3, Abueva 2, Cruz 0, Jalalon 0.
China 87 – Guo 18, Zhou P. 17, Hu 13, Li 11, Liu 9, Wu 6, Gan 4, Ren 4, Gu 3, Yu 2.
Quarterscores: 26-16, 53-39, 76-70, 96-87