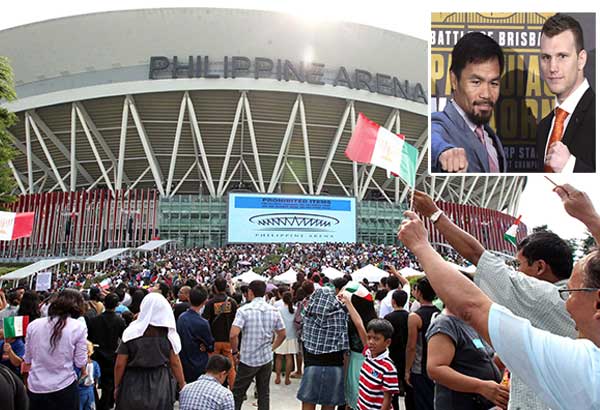 The state-of-the-art Philippine Arena is being eyed to host the return bout between Jeff Horn and Filipino icon Manny Pacquiao (inset). Boy Santos
Manny explores Philippine Arena option
MANILA, Philippines - Sen. Manny Pacquiao said the other day he's exploring the possibility of staging his rematch with WBO welterweight champion Jeff Horn in the country on Nov. 12 and disclosed a training timetable to start next week.
Pacquiao said there is no stipulated site in the rematch clause of his contract with Horn. "If you're Bob (Arum), wouldn't you keep your options open?" said Pacquiao who lost the WBO crown to Horn on a unanimous 12-round decision in Brisbane last July. "What if there's interest from another country and a bigger offer is made? Why would you limit yourself to Australia for the rematch? I wasn't born yesterday. Bob knows what he's doing."
Arum was recently quoted in media as saying he would visit Pacquiao here to finalize the terms of the rematch. Pacquiao, however, said he hasn't been advised of the visit. The only thing he confirmed is that he is in talks with the Horn camp about the second meeting. "Pinaguusapan," he said.
A source said Horn is guaranteed a purse of $1.7 Million in the rematch. According to Dan Rafael of ESPN, Horn received a contracted purse of $500,000 for the first fight and a portion of the gate receipts while Pacquiao's minimum was $10 Million. If the rematch is held in the Philippines, Horn's paycheck will be a substantial upgrade from his guarantee to lure him out of Australia. An amount of $3 Million has been mentioned as a likely offer for Horn. In the event the rematch is staged in the country, it will probably be held at the 55,000-seat Philippine Arena in Bulacan.
Wherever the fight is, Pacquiao said he'll start getting ready with conditioning drills next week. He mentioned a training schedule of two months to prepare for the rematch whose outcome was tainted because of American referee Mark Nelson's tolerance of Horn's illegal tactics. Nelson turned a blind eye to Horn repeatedly butting, elbowing, holding and tying up Pacquiao to restrict his space to operate.
Pacquiao said he couldn't imagine how judge Waleska Roldan scored it 117-111 for Horn. The two other judges Chris Flores and Ramon Cerdan both saw it 115-113. If Flores and Cerdan scored one more round for Pacquiao, the result would've been a majority draw with the title staying in his hands. "Maybe, I'll agree to fight Horn in Australia again if I'm allowed to choose the referee and judges," said Pacquiao jokingly.
Regarding the Floyd Mayweather-Conor McGregor bout in Las Vegas last weekend, Pacquiao said it showed the difference between boxing and mixed martial arts. He noted that in the first six rounds, McGregor had the upper hand but as the fight progressed, it was obvious the Irishman had no stamina to survive a long haul. Mayweather baited McGregor to punch himself out in the early going then with the UFC brawler tiring out, stepped up his attack and scored a stoppage in the 10th round. Right after the fight, Mayweather was interviewed by Showtime's Jim Gray in the ring and said he owed it to the fans to engage McGregor because it wasn't the case when he faced Pacquiao two years ago. Mayweather's mention of Pacquiao sparked speculation that he may be open to a rematch despite his announcement of another retirement.
Pacquiao isn't closing the door on a Mayweather rematch but for it to happen, he must beat Horn convincingly in their return bout to regain the crown and put it on the line against Money. At the moment, Mayweather may not be thinking of another fight because his bank account just got a considerable deposit, maybe in the vicinity of $250 Million. But with Mayweather's loose spending habits, it probably won't be long before he's lured back into the ring if there's another fat paycheck waiting.
Pacquiao said if Mayweather stood his ground against him instead of fighting defensively, the outcome would've been different. As it turned out, the fight was close even as Pacquiao hurt his shoulder in the fourth round and fought with basically one arm the rest of the way. There was no clear consensus along press row as to who was the winner. Pacquiao wondered if he could give Mayweather trouble with one arm, imagine what he could do with two.
"I didn't know (Miguel) Cotto fought on the same night as Mayweather," said Pacquiao. "If I only knew, I would've watched Cotto's fight instead." Cotto, whom Pacquiao stopped in 2009, decisioned Japan's Yoshihiro Kamegai to win the vacant WBO superwelterweight crown at the StubHub Center in Carson, California last Saturday night (Sunday morning, Manila) when Mayweather battled McGregor.