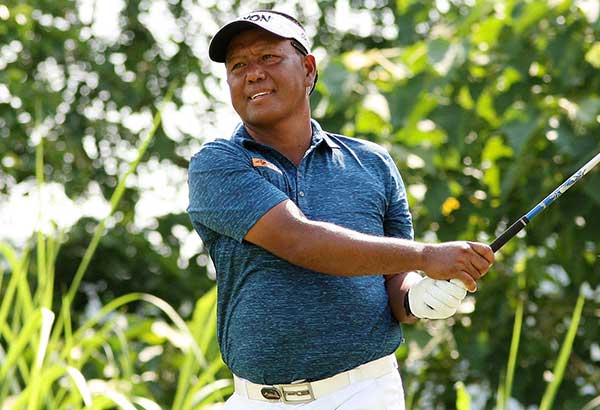 Lascuña sizzles with 65, leads by 3
(The Philippine Star) - September 7, 2017 - 4:00pm
TAGAYTAY, Philippines — Tony Lascuña bucked the heat and the late afternoon wind as he fired a seven-under 65 to wrest a three-stroke lead over Clyde Mondilla and obscure Rene Menor at the start of the rich ICTSI Splendido Classic at Taal Splendido Golf Club here yesterday.
Lascuña actually looked headed to shattering the course record 64 posted by amateur Rupert Zaragosa in 2015 with eight birdies after 13 holes. But the Davaoeño shotmaker fumbled with back-to-back bogeys from No. 14 before he birdied the par-3 17th to stay three shots clear of Mondilla and Menor with a 32-33 card.
"I was actually trying to put it all together at the front, parang may kulang sa swing ko. So I didn't expect to shoot this low," said Lascuña, out to atone for his ninth place finish in the inaugural PGA Asia Tour at Manila Southwoods last month.
"But if my putting clicks, I think I could shoot another 6-under tomorrow (today)," added Lascuña.
Mondilla, seeking to rebound from a missed cut stint in the region's newest circuit's kickoff leg, put in a bogey-free 68 to tie Menor, who lorded it over the crack international field with a 33-35 card in morning play before Lascuña surged ahead with his birdie-binge despite a late start highlighted by four straight from No. 10.
Mondilla also bucked a late tee time by gunning down three birdies in the last five holes at the backside of the up-and-down layout where he started. But after birdying the par-5 second hole, the Del Monte ace settled for a slew of pars, ruing a couple of missed birdie opportunities that could've moved him closer with the leader in the $100,000 event sponsored by ICTSI.
A slew of players from the starting field of 99 stood just a stroke or two behind, guaranteeing three more days of fierce action among the country's leading players and a number of foreign aces in the 72-hole championship organized by Pilipinas Golf Tournaments, Inc.
Korean You Joon toted a four-under card on his homeward trip at the front but stumbled with a bogey on the par-3 eighth and carded a 69, dropping to joint fourth with Rufino Bayron and Jobim Carlos in the early going of the second leg of the eight-stage circuit held to help develop the games of the local pros and at the same time promote the country as a top golf tourist destination.
Bayron, also out to snap a long title spell, fired a bogey-free 34-35 card while sophomore pro Carlos rebounded from a triple-bogey 8 on the par-5 No. 2 with a birdie on No. 5 and a rare back-to-back eagle feat from No. 10 then negated a bogey mishap on No. 14 with birdies on Nos. 15 and 18 to put his bid in motion again for a maiden championship in the event backed by Custom Clubmakers, Meralco, Champion, Summit Mineral Water, K&G Golf Apparel, BDO, Sharp, KZG, PLDT and M.Y. Shokai Technology, Inc.
Omar Dungca also eagled the par-5 11th for a 70 to lead the two-under par scorers, including Aussies DJ Loypur and Samuel Rawlings, Korean-American Micah Shin and fellow former PGT leg winner Arnold Villacencio.
Elmer Salvador, who edged Jay Bayron by one in last year's PGT Splendido Classic, blew a five-under card after 12 holes, making a double-bogey on No. 14 and dropping two more strokes on Nos. 15 and 18.