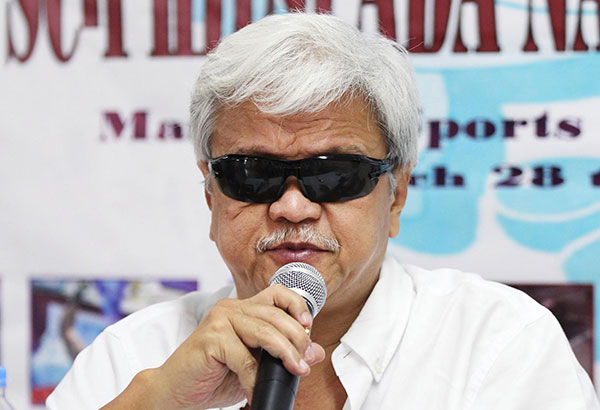 The PPC will be headed by its president Mike Barredo, a former Phl Sports commissioner and the Philspada chief. Jun Mendoza, File
PPC formed to run Philippine Paralympic movement
Joey Villar
(The Philippine Star) - September 11, 2017 - 4:00pm
MANILA, Philippines — Differently-abled athletes will now have their paralympic movement in the country.
The Philippine Sport for the Differently Abled (Philspada) recently formed the Philippine Paralympic Committee (PPC), which will serve as the counterpart of the Philippine Olympic Committee, the country's top governing sports body.
The PPC will be headed by its president Mike Barredo, a former Phl Sports commissioner and the Philspada chief, with Tom Carrasco of triathlon and Ral Rosario of swimming as vice president and secretary-general, respectively.
The PPC will also be run by a management group that will include Debbie Tolentino, Kiko Diaz, Manny Calanog and John Alonte.
"Just like the Olympic movement, there is also the Paralympic movement so it is appropriate that we start now," said Carrasco.
He added that the next step is for the various national sports associations (NSAs) to form their own groups for the differently abled and follow a group called the Phl Para-Chessers Association (PPCA), headed by James Infiesto, put up three years ago.
Meanwhile, a 164-member strong Phl delegation is set to leave tomorrow for the ninth ASEAN Para Games set Sept. 17-23 in Kuala Lumpur, Malaysia.
Rosario will be the first to leave as he attends the chef de mission meeting today while the bulk of the delegation will depart on two batches tomorrow.
The Phl is seeking to match, if not surpass, the 16-gold performance in the last ASEAN Para Games in Singapore two years ago.