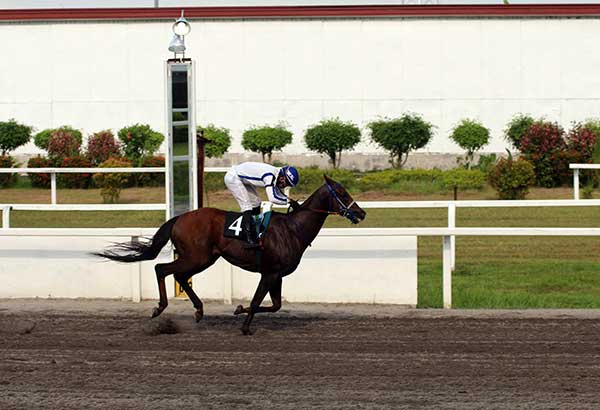 Don Albertini crosses the finish line a clear winner of the rich Japan Racing Association Cup. The veteran runner, owned by lawyer-businessman Narciso Morales, set out as the longest shot in the starting field of seven.
Don Albertini pulls off big reversal
(The Philippine Star) - September 13, 2017 - 4:00pm
MANILA, Philippines — Veteran but underrated Don Albertini beat six others on Sunday to rule the P600,000 Japan Racing Association Cup in the biggest reversal so far in the racing season at the Santa Ana Park in Naic, Cavite.
With top jockey O'Neal Cortez handling him beautifully, Don Albertini heroically bucked a big challenge by eventual runner-up Great Wall in the mid-point of the 1600-meter race to win and reward the vast stable of businessman Narciso Morales a victory after a disappointing finish in another stakes race two Sundays ago.
Trained by Agah Matias, Don Albertini sold only a few thousands in the daily double betting as the longest shot, which was not surprising given his forgettable fifth place finish among eight runners in the PCSO Cup (Division 1) at the San Lazaro Leisure Park on Sept. 3.
But Don Albertini and his regular jockey returned to action with payback on mind, beating top choice Greatwall by three lengths and second favorite Puting Biyaya by four with a time of 1 minute, 40 seconds on quarter times of 25-23-24-27.
"The team did a good job in preparing the horse. I know the horse will recover big after that poor showing (in the PCSO Cup)," said Morales, who's on track of finishing on top again in the most number of wins among horseowners.
Don Albertini, also the oldest in the field at seven, finished three lengths clear of the Apoy Asuncion-ridden Greatwall and four ahead of Putting Biyaya, who rallied in the final straight to salvage third place under RM Ubaldo.
Hot from the get-go under Cortez, Don Albertini built a two-length lead as he entered the final turn, only to find himself shadowed for nearly 100 meters by Greatwall before pulling away deep in the stretch to the horror of the llamadistas.
The win raised Morales' tally of victories to 180 as of the first week of September, as he stayed well on track of becoming the winningest horseowner for the fourth time in the last five years.