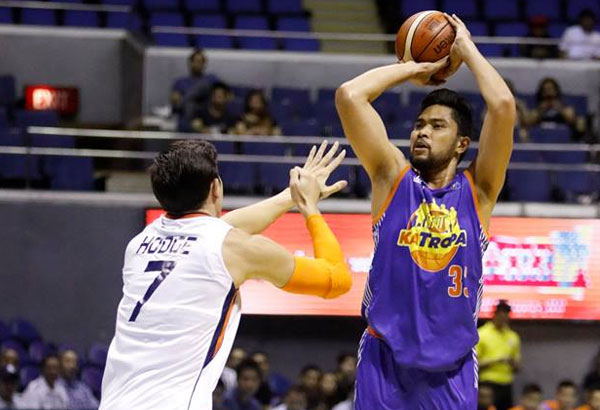 Ranidel De Ocampo shoots over Cliff Hodge, now his teammate with the Meralco Bolts. | PBA Images
With Ranidel De Ocampo in fold, Bolts chase share of lead
Games Friday (Smart Araneta Coliseum)
4:15 p.m. – Alaska vs Meralco
7 p.m. – GlobalPort vs Star
MANILA, Philippines — Meralco starts its journey with trade acquisition Ranidel de Ocampo Friday night, going for a share of the lead with idle Barangay Ginebra as the Bolts tangle with the back-to-the-wall Alaska Milk squad in the PBA Governors Cup at the Smart Araneta Coliseum.
The Bolts, now a more potent squad with the addition of the league's leading big shooting forward, also press their bid for a Top Four finish in their 4:15 p.m. encounter versus the Aces who, on the other hand, fight for survival.
Star, with its own new trade recruits in Kyle Pascual and Bam Gamalinda, and GlobalPort both look to check slump as they mix it up in the other game at 7 p.m.
One of the best power forwards the league has seen in the post-Alvin Patrimonio era, De Ocampo is tipped to provide the Bolts extra boost in chase of top seeding in the post-elims play.
At 6-2, Meralco is right behind Ginebra at 7-2 and NLEX at 7-3. Alaska, meanwhile, is barely alive at 3-6.
"This is a tough situation for us. We have what is a must-win against one of the very best teams in our league," said Alaska coach Alex Compton.
"Meralco has a dominant import in Durham and coach Norman Black has really got them playing disciplined basketball. I don't think there's any question that this matchup will require our best game of the conference," Compton also said.
The Hotshots and the Batang Pier also hope to be at their best in their own crucial setto.
Both are like a sinking ship with the Hotshots at 4-3 having lost their last three games while the Batang Pier are in a direr situation at 3-5 having dropped three of their last four outings.
"Every single game is very crucial now for us," said coach Chito Victolero whose Star Hotshots team is tottering at seventh place, barely ahead of Blackwater (4-5) and GlobalPort.
The Batang Pier are in a more precarious spot but they're likely to draw tremendous boost on the return of ace guard Stanley Pringle, back in the country after attending the funeral of his father in the US.
Pringle is raring to deliver all he's got to make up for the games he had missed. Without Pringle, the Batang Pier lost their last two games to the San Miguel Beermen (112-115) and to the NLEX Road Warriors (99-109).
The Hotshots, meanwhile, were on a superb 4-0 start before going on a 0-3 skid against Rain or Shine (88-92), Barangay Ginebra (101-105) and Meralco (90-96).
They then effected a lineup change, acquiring Pascual and Gamalinda from Blackwater while dealing away Allein Maliksi and Chris Javier.