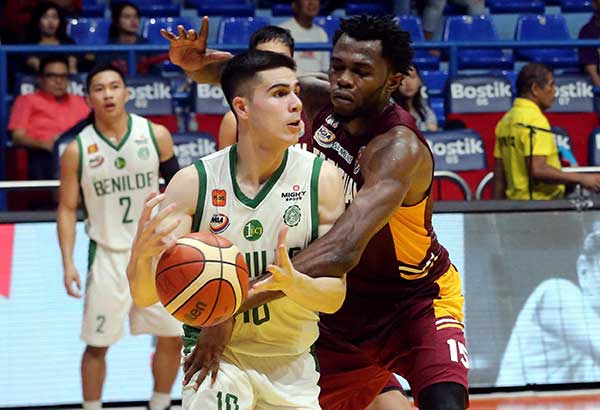 St. Benilde's Edward Dixon tries to keep possession as he is hounded by Perpetual Help's Prince Eze during their NCAA clash. KJ ROSALES
Listless Pirates survive tough Chiefs
(The Philippine Star) - September 15, 2017 - 4:00pm
Games Tuesday (Filoil Flying V Center)
2 p.m. – EAC vs JRU (Srs)
4 p.m. – AU vs CSJL (Srs)
MANILA, Philippines — Lyceum rallied from 14 points down in the stretch as the Pirates pulled off a tough 94-92 victory over the Arellano Chiefs to keep their unbeaten run in the NCAA men's basketball tournament at the Filoil Flying V Center in San Juan yesterday.
The Pirates closed out with a stirring 20-5 run and bucked CJ Perez ouster on fouls in the last two minutes to frustrate the Chiefs and stretch their streak to 12 to close in on the first semifinal berth.
"Actually I've prepared a speech because I was already expecting that we're going to lose. I told the guys that the experience we got here only shows that we're not invincible," said Lyceum coach Topex Robinson.
That was after Kent Salado drained in a triple to give the Chiefs an 87-74 lead with 4:18 left in the contest.
But the Pirates proved they're made of sterner stuff and flashed the form they dished out against the Letran Knights at the end of the first round that saw them storm from 17 points down to score a 75-68 victory.
"Hopefully it's a challenge or a wake-up call for us that we have to keep on playing until the final buzzer. Again we always want to inspire others," said Robinson.
"It's going to be hard along the way but hopefully this game would turn us really into a great team," he added.
Arellano slid to 4-7.
Meanwhile, San Beda stayed within striking distance of Lyceum as it trounced San Sebastian, 76-65, to likewise extend its win run to 10 for an 11-1 card.
JV Mocon led the Red Lions with 17 points, 11 rebounds and five assists, including a clutch triple that gave San Beda a 12-point cushion at 76-64 with 64 seconds left in the contest.
Jeramer Cabanag also came off the bench to score six straight points to open the fourth quarter as the Red Lions took a 64-55 lead with 7:47 remaining in the game.
The match also saw the ejection of Michael Calisaan, who was slapped with disqualifying foul after elbowing Mocon in the face in the early going of the first half.
Earlier, St. Benilde completed a season sweep of Perpetual Help as it scored a runaway 83-55 victory to notch its third win in 12 games.
The win somehow validated the Blazers' victory over the Altas in the first round due to technicality after the league overturned Perpetual's 69-65 for wearing the wrong set of uniforms.
The scores:
First Game
LPU 94 – Ayaay 20, Nzeusseu 17, Caduyac 15, Perez 14, Marcelino JC. 13, Baltazar 7, Santos 4, Marcelino JV. 2, Ibañez 2, Tansingco 0, Pretta 0, Liwag 0, Serrano 0, Marata 0.
AU 92 – Salado 24, Flores 15, Abanes 12, Nicholls 11, Enriquez 8, Alcoriza 7, Dela Cruz 6, Villoria 4, Taywan 3, Concepcion 2, Cañete 0, Meca 0, Filart 0.
Quarterscores: 26-23, 44-47, 57-70, 94-92
Second Game
CSB 83 – Dixon 21, Leutcheu 14, Young 14, Domingo 11, Naboa 6, Johnson 5, Belgica 4, Castor 3, Pili 2, Velasco 2, Suarez 1, Sta. Maria 0, San Juan 0, Mercado 0.
UPHSD 55 – Pido 9, Hao 8, Eze 6, Dagangon 6, Sadiwa 5, Yuhico 5, Lucente 4, Coronel 3, Clemente 3, Ylagan 2, Cabiltes 2, Mangalino 2, Tamayo 0.
Quarterscores: 25-9, 47-23, 65-38, 83-55
Third Game
SBC 76 – Mocon 17, Potts 16, Bolick 11, Tankoua 8, Presbitero 8, Cabanag 6, Doliguez 5, Soberano 3, Adamos 2, Bahio 0, Abuda 0, Oftana 0, Tongco 0.
SSC-R 65 – Calisaan 23, Bulanadi 12, Gayosa 10, David 5, Ilagan 5, Baetiong 4, Calma 2, Navarro 2, Capobres 2, Costelo 0, Mercado 0, Valdez 0, Are 0.
Quarterscores: 26-15, 42-36, 58-53, 76-65