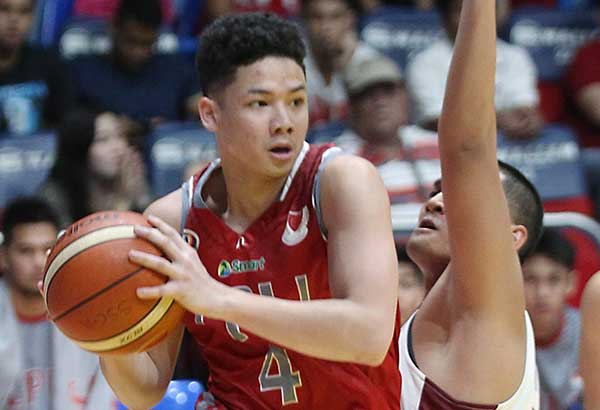 Lyceum's Spencer Pretta (left) defies Perpetual Help's Daryl Singontiko's defense as he drives to the basket during their NCAA encounter. JUN MENDOZA
Pirates roll to 'Lucky 13'
(The Philippine Star) - September 21, 2017 - 4:00pm
MANILA, Philippines — Lyceum outclasses Perpetual, keeps win streak.
Lyceum of the Philippines University scored an NCAA Final Four breakthrough in style, clinching the first semifinal berth with a spotless 13-0 record after thwarting Perpetual Help, 94-83, yesterday at the Filoil Flying V Center in San Juan.
The Pirates recovered from a shaky start then overcame the Altas gritty stand with a big closing run to fashion out the 11-point victory, stretch their win run to 13 and make the Final Four for the first time since joining the league in 2011.
"It's really something that we are not accustomed to but part of the journey is making it here," said LPU coach Topex Robinson.
"We'll just continue to be humble and feel blessed to be in this position," added Robinson, whose Pirates ended up ninth last season.
CJ Perez fired 21 points while Spencer Pretta added 12 markers but the Pirates needed a complete team effort in the stretch to finally put away the Prince Eze-led Altas.
Perez also came one assist short of a double-double while Mike Nzeusseu finished with 15 points and 15 rebounds and Jayvee Marcelino added 15 markers and Jaycee Marcelino chipped in 11 points for the Pirates, who whipped the Altas, 76-58, in the first round.
Robinson also gambled on putting Perez and Jesper Ayaay against Eze while the Marcelino twins provided the hustle in the stretch.
"We have to counter their height because Eze is there. Good thing it paid good dividends for us," said Robinson. "It's just a blessing to have these players because you don't need to coach them."
Upon the entry of the Marcelinos, the Pirates went on a 12-2 run to turn a shaky 71-68 lead to a commanding 83-70 advantage on Nzeusseu's charities.
But the Altas refused to give up with Keith Pido scoring on a layup to cut down their deficit at 81-85 with two minutes left in the match.
Later, San Sebastian kept its Final Four hopes alive with a 73-61 victory over College of Saint Benilde.
Perez came through with 21 points, nine assists, five rebounds and two steals while Cameroonian Mike Nzeusseu added 15 points and 15 rebounds for the Pirates.
Jayvee Marcelino also scored 15 points, while Spencer Pretta and Jaycee Marcelino added 12 and 11 points, respectively, for LPU.