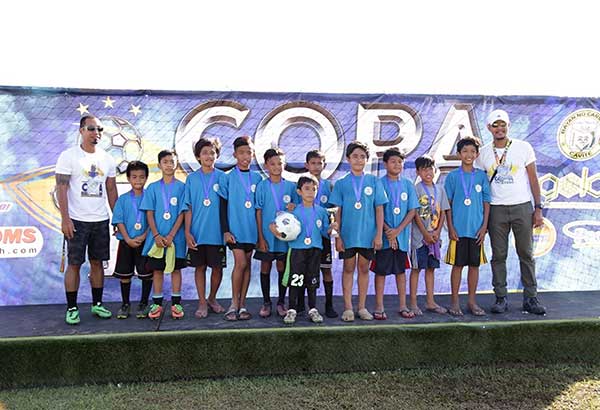 The Copa San Lazaro is a fund-raising initiative which benefits the MJC Colts based in Carmona, Cavite.
OLAC FC tops MJC's Copa San Lazaro
(The Philippine Star) - September 23, 2017 - 4:00pm
MANILA, Philippines — The OLAC Football Club led the winners of the third Copa San Lazaro football tournament at the Manila Jockey Club's San Lazaro Leisure and Business Park in Carmona, Cavite recently.
Over 40 teams, consisting of 470 players and more than 300 spectators from Metro Manila, Cavite, Laguna, Batangas, Quezon Province, and Olongapo, participated in the one-day tournament organized by the Manila Jockey Club, Inc. in cooperation with the Alab Football Club, Inc.
Other winners from the different age-category and mixed events include: Eaglets FC (mixed 2008-2009), Raga FC (mixed 2006-2007), Atletico Diliman (mixed 2004-2005), Mabuhay FC (mixed 2002-2003), DLSU-IS (boys 2000-2001) and OLAC FC (girls 2000-2001), and OLAC FC (mixed open).
Copa San Lazaro was established in June 2016 to provide an opportunity for young players to develop healthy bodies, sound minds and positive values while enjoying their favorite game.
The tournament is also a fund-raising initiative which benefits two football clubs – the MJC Colts, a newfound club based in Carmona, Cavite which caters to the less fortunate but talented players in the area; and the Alab FC, a Los Baños-based club – whose funds will be used for equipment purchases and to offset participation fees in high-level competitions such as the Pilipinas Cup and Borneo Cup.
Moreover, Copa San Lazaro is part of MJC's support to grassroots football in Cavite
This is in line with the company's partnership with the Philippine Football Federation to develop SLLBP as a football mecca of the Philippines. MJC recently hosted the turnover ceremonies of the FIFA Turf Project, and the groundbreaking ceremony of the PFF House of Football and National Football Center.
The Manila Jockey Club, established in 1867, is one of the oldest existing racing clubs in the Asia Pacific region. Manila Jockey Club, Inc., incorporated in 1937, operates the San Lazaro Leisure Park in Carmona, Cavite.