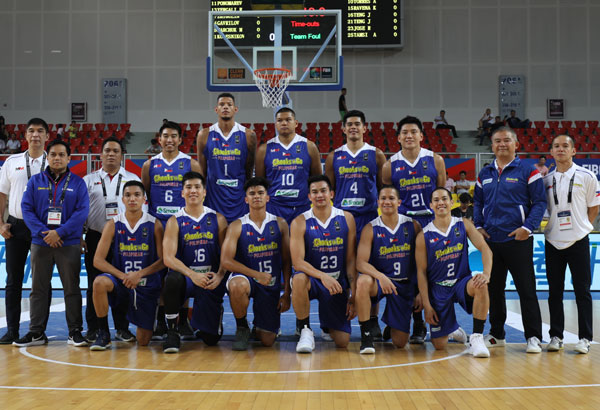 Chooks-to-Go Pilipinas | Photo from Bounty Sports
Chooks Pilipinas absorbs 21-point beatdown from Iranian club
MANILA, Philippines – Chooks-to-Go Pilipinas failed to contain the hot-shooting former LA Clipper Willie Warren and suffered a 66-87 loss to Petrochimi of Iran that relegated the Filipinos to third place in Group A at the close of the 2017 FIBA Asia Champions Cup preliminary round at the Chenzhou Sports Center in Chenzhou, China Tuesday night.
Warren scattered four 3-pointers and a total of 30 points to send the Filipinos to a knockout quarterfinals battle with the Andray Blatche-reinforced defending champion China Kashgar team Thursday.
The Iranians finished second in Group A and set a quarterfinals matchup versus Group B No. 3 Taipei Dacin Tigers.
The other Final Eight pairings pit BC Astana of Kazakhstan versus Shabab Al Ahli-Dubai and Sareyyet Ramallah-Palestine versus Al Riyadi-Lebanon.
The tourney takes a break Wednesday.
BC Astana and PetroChimi actually finished with identical 3-1 win-loss records in elims play, but the Kazakhs took Group A first-place honors on the winner-over-the-other rule. The Kazakhs suffered their lone defeat in the elims at the hands of the Filipinos.
Versus Petro-Chimi, Chooks-to-Go fell behind by a big margin on successive three-pointers by Warren and guard Sajjad Mashayekhi in the second period.
Behind the exploits of Kiefer Ravena and Isaiah Austin, the Filipinos rallied from 20 points down to come to within 10 midway through the fourth but failed to sustain the momentum of their comeback bid.
The Iranians proved too tough to handle in the end with their size and firepower.
Team Philippines was led by Ravena and Austin with 20 points apiece.
The scores:
PetroChimi 87 – Warren 30, Mashayekhi 15, Yackchali 12, Kazemi 9, Davarpanah 8, Niktash 5, Zakeri 4, Sahakian 2, Mirzaeeitalarposhti 2, Bahramzad 0.
Chooks-to-Go 66 – Austin 20, Ravena 20, Torres 9, Teng 5, Revilla 4, Manuel 3, Teng Jeric 3, Vosotros 2, Jose 0, Tamsi 0, Cruz 0.
Quarterscores: 16-14, 43-39, 61-46, 87-66