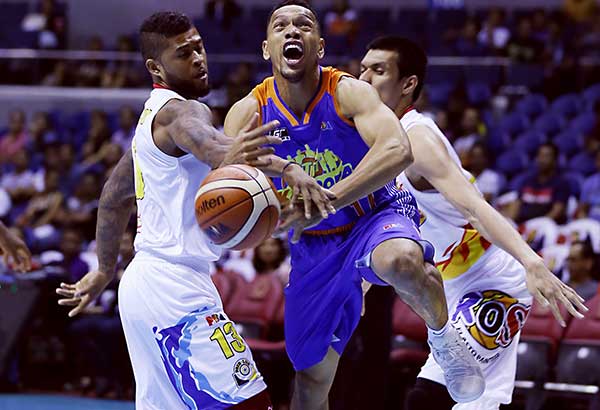 Jayson Castro of TNT KaTropa loses his grip on the leather as Maverick Ahanmisi (left) of Rain Or Shine plants his arms from the side while teammate Raymond Almazan assists from behind.
TNT drops ROS, reaches semifinal
MANILA, Philippines — TNT KaTropa joined the march of the top seeds into the PBA Governors Cup Final Four, hanging tough all throughout and surviving a dogfight with Rain or Shine, 118-114, in their quarterfinals knockout duel at the Smart Araneta Coliseum last night.
The Texters refused to fold up and gained the crucial go-ahead basket, 116-114, as Glenn Rice – in the right place at the right time – tossed in an air ball by Jason Castro with 10.2 ticks to go.
In a virtual eyeball-to-eyeball encounter, Rain or Shine blinked.
J'Nathan Bullock dished a pass that Beau Belga couldn't handle in their last possession, allowing the Texters to escape with the win and set up a best-of-five semifinal showdown with the Barangay Ginebra Kings starting Monday at the Big Dome.
TNT, the playoff second seed, avoided blowing a twice-to-beat advantage, and thus joined top seed Meralco, third-ranked Ginebra and No. 4 Star in the Last 4.
The Bolts and the Hotshots begin their own semis series at 6:30 p.m. tomorrow at the Alonte Sports Arena in Biñan, Laguna.
"It's a hard-fought victory. But we knew all along going into this series that we would have a hard time against Rain or Shine. Coach Caloy (Garcia) has been doing a good job managing his team and motivating his players. It showed in the two games we played," said TNT coach Nash Racela.
"We came out the better team, and part of it was due to breaks of the game that favored us in the end," Racela added.
"Of course, Rice making crucial three-pointers really helped us," Racela also said.
The TNT import highlighted a superb 34-point game with three clutch treys, the last one giving the Texters a 112-108 lead entering the last two minutes of the game.
The E-Painters actually still grabbed the upper hand at 114-112 before Castro nailed two charities off a foul by Bullock to tie the count with 41.4 ticks left.
Then came the E-Painters' meltdown.
After a Jericho Cruz miss on a drive, Rice converted the basket that pushed TNT ahead to stay.
It was a fierce battle where no team enjoyed a double-digit margin.
The Texters threatened to make an early breakaway, 13-4, but the E-Painters immediately stopped the bleeding.
The scores:
TNT 118 – Rice Jr. 34, Castro 20, Rosario 18, Pogoy 16, Williams 10, Semerad 8, Reyes 5, Carey 4, Tautuaa 3, Nuyles 0.
RAIN OR SHINE 114 – Bullock 30, Belga 18, Borboran 15, Norwood 14, Cruz 11, Tiu 10, Ahanmisi 7, Trollano 5, Almazan 4, Ponferada 0.
Quarterscores: 27-27, 59-59, 85-86, 118-114