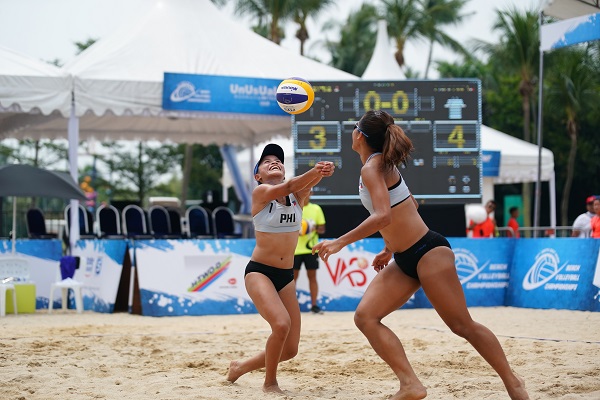 The Philippines' Cherry Rondina and Bernadeth Pons during the 29th Southeast Asian Beach Volleyball Championship in Singapore | Huang Xiaolong
Pinoy spikers come up short in 29th SEA Beach Volleyball Championship
MANILA, Philippines — The Philippines failed to nab a podium finish in the 29th Southeast Asian Beach Volleyball Championship in Singapore over the weekend.
The tandem of Cherry Rondina and Bernadeth Pons, Patty Orendain and Fiola Ceballos, and Anthony Arbasto and Jude Garcia all qualified for the quarterfinals but did not advance.
Rondina and Pons dropped their opening game against Thailand's Rumpaipruet Numwong and Khanittha Hongpak 15-21, 21-12, 15-5.
They won convincingly against Malaysia's Ming Yi Winnie Lim and Lynns Dawn 21-14, 21-5 before bowing to Indonesia's Dhita Juliana and Putu Utami in the quarterfinals, 11-21, 17-21.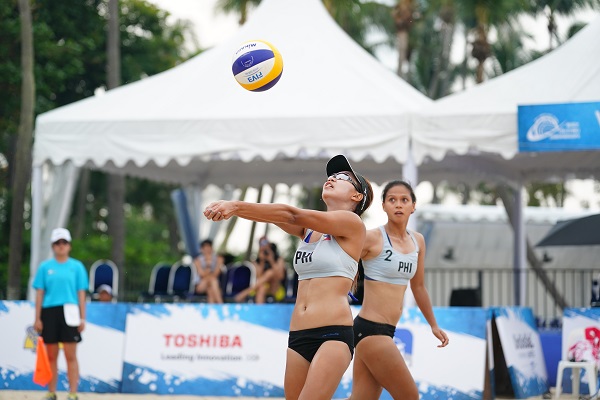 Patty Orendain and Fiola Ceballos | Huang Xiaolong
Orendain and Ceballos went the same route, dropping their first match and winning the next two only to lose to Thailand's Numwong and Hongpak in the quarterfinals, 10-21, 9-21.
The country's lone men's team in Arbasto and Garcia, meanwhile, opened their campaign with a victory over Malaysia's Ahmad Zulkifli and Muhammad Solhin Idris, 30-28, 21-17.
They dropped their match against Thailand's Nuttanon Inkiew and Sedtawat Padawud, 21-12, 21-17, before disposing Lao's Panyay Chanpheng and Vanhthong Phommany, 21-13, 21-10.
Jude Garcia and Anthony Arbasto | Huang Xiaolong
But just like their Filipina counterparts, the pair lost in the quarterfinals against Indonesia's Candra Rachimawan and Mohamed Ashfiya 21-14, 21-13.
Indonesia won both the women's and men's finals dethroning Thailand.