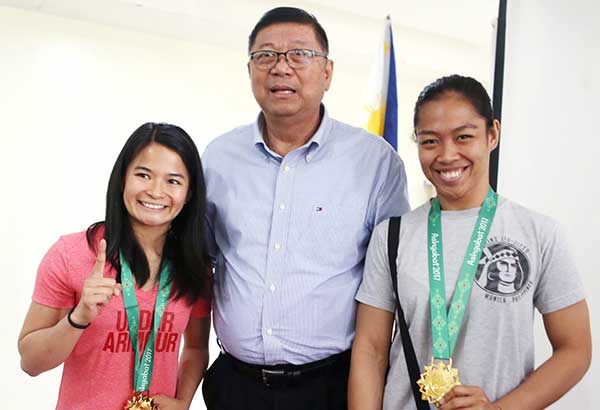 PSC chair William Ramirez poses with Meggie Ochoa and Annie Ramirez, gold medalists in jiu-jitsu, in the recent Asian Indoor Games in Turkmenistan. Joey Mendoza
RMSC eyed as venues for '19 SEAG?
Abac Cordero
(The Philippine Star) - October 3, 2017 - 4:00pm
MANILA, Philippines — With the aborted sale of the Rizal Memorial Sports Complex, the Philippine Sports Commission is now looking at rehabilitating and refurbishing the old and outdated complex located in the heart of Manila.
Chairman William Ramirez of the PSC yesterday said certain facilities within the 8.4-hectare complex that was built in 1934 and had seen better days will be refurbished.
Ramirez said there are existing facilities at RMSC that can be used for the 2019 Southeast Asian Games.
"One is the Rizal Memorial Coliseum," said Ramirez yesterday during a press briefing graced by PSC commissioners Charles Maxey, Arnold Agustin and Celia Kiram, national training director Mark Velasco and the gold medalists in the recent Asian Indoor and Martial Arts Games (AIMAG) – jiu-jitsu fighters Margarita Ochoa and Annie Ramirez.
The PSC is also planning to spruce up the Rizal Memorial baseball field, the bowling lanes and the Ninoy Aquino Stadium which can house the boxing competitions of the 2019 SEA Games.
The PSC chairman said they haven't prepared any master plan for the rehabilitation but added that the money is there.
"We can spend the money as long as it would benefit the athletes," said Ramirez, also looking at a five-star canteen for the national athletes still housed at the RMSC, which hosted the 1934 Far Eastern Games, 1954 Asian Games and the 1981, 1991 and 2005 SEA Games.
The Philippine Center for Sports Medicine at the RMSC will also see a major facelift. Also being considered for rehabilitation is the Philsports Arena (Ultra) in Pasig City, particularly the track oval that has been overtaken by time.
"We are also planning construction in Baguio City (Teachers Camp)," said Ramirez during the briefing where he introduced the new faces in the PSC – executive director Atty. Sannah Frivaldo and chief of staff Dino Badilla.
Ramirez, however, clarified that it's up to the SEA Games Organizing Committee headed by Foreign Affairs Secretary Allan Peter Cayetano to decide whether the existing facilities at RMSC can or will be used for the next SEA Games.
The past couple of years, there've been talks about the impending sale and privatization of the RMSC, a multi-billion-peso deal involving the City of Manila.
But the plan was shelved, according to Ramirez, based on a directive from Malacañang "to stop the negotiations."