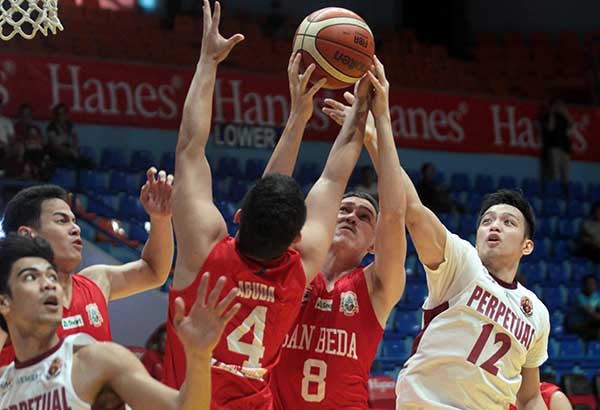 San Beda's Franz Abuda (4) and Robert Bolick control the rebound against Rommel Mangalino (12) of Perpetual Help during their NCAA seniors showdown. JUN MENDOZA
Lions notch 13th win in row vs Altas
Joey Villar
(The Philippine Star) - October 3, 2017 - 4:00pm
Games tomorrow
12 noon – AU vs CSB (jrs)
2 p.m. – AU vs CSB (srs)
4 p.m. – Mapua vs UPHSD (srs)
6 p.m – Mapua vs UPHSD (jrs)
MANILA, Philippines — Robert Bolick and Donald Tankoua took charge in the clutch as San Beda fended off Perpetual Help, 55-50 to stay right behind unbeaten Lyceum in the NCAA seniors basketball tournament at the Filoil Flying V Center in San Juan yesterday.
Bolick and Tankoua combined for eight points in the fourth quarter to lift the Lions to their 13th straight victory and 14th overall against a loss and remain just a game behind the Pirates, who are undefeated in 15 games.
San Beda coach Boyet Fernandez, however, was far from being satisfied, ruing his wards lack of team play.
"We played with just 11 assists, that's not San Beda's game," said Fernandez.
Bolick, the league's assist leader with an average of five, owned up to their struggle.
"I took a lot of shots when I should have passed more," said Bolick, who misfired on 13 of his 18 attempts and finished with just two assists.
Bolick lauded the 6-11 Tankoua, who held Eze to just eight points and 11 rebounds after norming 16.1 points and a league-best 17.7 rebounds heading to the contest.
"He (Tankoua) was MVP last year but he got injured. Now he's back and his presence will be a big key to our success," said Bolick.
San Beda's win also spoiled Nigerian coach Nosa Omorogbe return to Perpetual Help as the Lions all but booted the Altas out of the Final Four race with 4-10 slate.
The Las Piñas-based squad kept the game close in the fourth quarter but failed to neutralize Bolick and Tankoua, who hit clutch baskets to secure the win for the Lions.
In the second game, Jose Rizal University downed College of St. Benilde, 90-77, to solidify its hold of the third spot with a 9-6 record.
Jed Mendoza fired 19 points while Tey Tey Teodoro added 16 markers for the Bombers, who struggled in the early going before seizing control in the second quarter.
The Blazers, led by Clement Leutcheu, Emmanuel San Juan and John Domingo, sank to 3-12.
Leutcheu shot 25 points while San Juan and Domingo finished with 14 and 10 markers, respectively.
The scores:
First Game
San Beda 55 – Bolick 15, Tankoua 14, Soberano 9, Mocin 8, Cabanag 6, Noah 3, Abuda 0, Adamos 0, Bahio 0, Doliguez 0, Oftana 0, Presbitero 0, Tongco 0
Perpetual Help 50 – Coronel 9, Eze 9, Pido 9, Eze 8, Ylagan 7, Sadiwa 3, Lucente 2, Yuhico 2, Mangalino 1, Singontiko 0, Tamayo 0
Quarterscores: 11-11; 27-19; 43-34; 55-50
Second Game
Jose Rizal 90 – Mendoza 19, Teodoro 16, Grospe 14, Abdul Razak 12, dela Virgen 9 David 8, Sawat 5, Lasquety 4, Poutouochi 3, Castor 0, Mariano 0, Mate 0
CSB 77 – Leutcheu 25, San Juan 14, Domingo 10, Dixon 9, Belgica 7, Naboa 6, Johnson 3, Suarez 2, Castor 1, Pili 0, Sta. Maria 0, Velasco 0, Mercado 0
Quarterscores: 21-20; 51-35; 67-59; 90-77