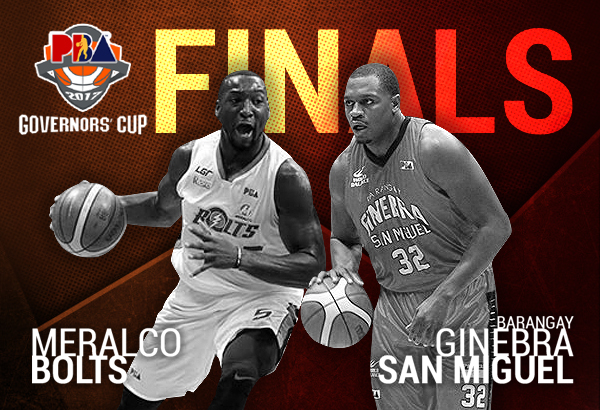 Meralco and Barangay Ginebra figure in a repeat championship duel with all the factors in the mix to make it a storied series – corporate rivalry, efficient imports and a quest for a first even win and a title repeat in the PBA Governors Cup beginning Friday at the Quezon Convention Center in Lucena. Philstar.com/Jonathan Asuncion
Bolts, Gin Kings relive thriller of title series
MANILA, Philippines — Meralco and Barangay Ginebra figure in a repeat championship duel with all the factors in the mix to make it a storied series – corporate rivalry, efficient imports and a quest for a first even win and a title repeat in the PBA Governors Cup beginning Friday at the Quezon Convention Center in Lucena.
The season couldn't have a better finish than this – not a showdown between sister teams from the MVP Group or San Miguel Corp.
Instead, it's an expected cutthroat duel between corporate rivals to end an intense playoff run.
It's a best-of-seven finale where the Bolts chase a breakthrough PBA championship while the Kings shoot for a first-ever title repeat.
They tangle in a title rematch both with an upgraded lineup although it will still be Norman Black and Tim Cone who engage in a coaching duel, and Allen Durham and Justin Brownlee who are pitted in a marquee import matchup.
Brownlee himself secured the tite-clinching win last year with a long quartercourt shot in the last 5.5 seconds of Game Six with the count tied at 88, igniting a wild celebration that spilled onto the court.
Meralco has gained extra firepower and experience on the addition of Ranidel de Ocampo and the return of Jared Dillinger from an injury. Ginebra, meanwhile, lauded the return of towering Greg Slaughter that the team missed last year.
Cone said the Bolts, being well rested, could enjoy some edge at the start of the series.
"We have a quick turnaround but I think we can get our legs going as the series progresses," said Cone, anticipating a classic battle just like their last finale they won on a buzzer-beating trey by Brownlee.
LA Tenorio expects a tougher test than the one they went through versus the TNT KaTropa in the semifinals.
"This will be a lot tougher. Meralco will be a tough, tough challenge for us," said Tenorio.
"No. 1 is that they're highly motivated. They're aching to get back at us. No. 2 is the addition of Ranidel de Ocampo. No. 3, Baser Amer and Chris Newsome have improved a lot from last year," Tenorio added.
Cone, Tenorio and Brownlee are one in their description of the Meralco reinforcement – a beast of an import.
"He's a monster and, as he's saying, he's back to do an unfinished business. He's determined to win a PBA championship," said Tenorio.
"Their import is a beast. We don't have a matchup for him. We'll figure out," said Cone.
"He's a beast. He's unstoppable. He gives teams lot of problems that's why he's the best import. I'll just do my best try to contain him and try to slow him down," said Brownlee.
And Cone stressed Meralco is not all about Durham.