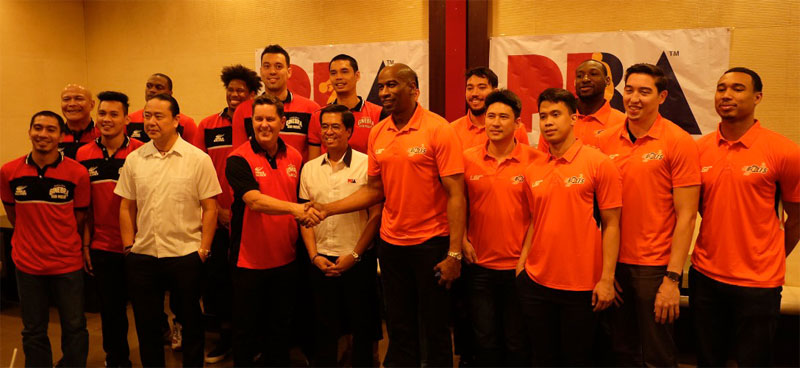 The Barangay Ginebra Gin Kings and the Meralco Bolts pose during Tuesday's presser. | Denison Rey A. Dalupang/Philstar.com
It's size vs versatility in PBA Governors' Cup Finals
Game Friday (Lucena)
7 p.m. – Ginebra vs Meralco
MANILA, Philippines – The consensus description of the Barangay Ginebra-Meralco championship series is size versus versatility.
The Gin Kings are expected to use their height advantage to the hilt while the Bolts can play big or small, depending on the pace they want to play as the two teams fight for the ultimate prize in the 2017 PBA Governors Cup.
"It's gonna be tough and it's gonna be rough," said Ginebra coach Tim Cone of the best-of-seven finale that fires off at 7 p.m. Friday at the Quezon Convention Center in Lucena.
"We couldn't pick a higher quality opponent. They have all the bases covered. They're the most dominant team in the conference, and that's the challenge out there for us," Cone also said.
The Ginebra tactician said it would be hard for them to dictate the matchups "because (Meralco) has a lot of versatility."
"We'll always have the bigger team. But they also have got the size, and they have a good balance that they can play the pace that they want to play," Cone pointed out.
Meralco coach Norman Black, however, plays down their versatility.
"A great problem for us is their size. We really can play big or small but we can't be bigger than them," said Black.
The two coaches, however, agree that the series would be a defensive struggle.
"I know they're capable of scoring a lot of points, but we both play tough defense. It's gonna be a defensive struggle no matter how many games the series goes," said Black.
It's a duel between the league's second best offensive team versus the No. 1 defensive team.
Ginebra averages 103.7 points as against Meralco's 98.19. On the other end of the floor, the Bolts yield only 89.8 points an outing while the Kings allow 98.8.
The defending champs and the challengers are close on the other departments, with Ginebra having the edge in rebounding, assists, blocks, steals while Meralco has the upper hand in three-point shooting, fastbreak and free-throw shooting percentage.
Allen Durham is surely the man to watch at Meralco with his whopping averages of 25.4 points, 20.1 rebounds, 6.8 assists and 1.3 blocks.
But Ginebra's Justin Brownlee is also efficient with his norms of 24.6 points, 11.3 rebounds, 4.6 assists, 2.2 blocks and 1.6 steals.
Baser Amer (14.3 points), Chris Newsome (13.1) and Jared Dillinger (10.4) are the Meralco locals averaging in double figures. Ranidel de Ocampo, Cliff Hodge, Garvo Lanete, Reynel Hugnatan and Mike Tolomia are also solid contributors for the playoff top seeds.
Ginebra's other main men with sterling stats line are LA Tenorio (15.0 points, 5.4 assists and 3.5 rebounds), Greg Slaughter (14.7 ppg, 8.8 rpg), Joe Devance (12.2 ppg, 4.4 rpg, 2.9 apg) and Japeth Aguilar (11.1 ppg, 7.6 rpg, 1.9 blocks).
The other Ginebra players to play important roles are Scottie Thompson, Sol Mercado, Kevin Ferrer, Jervy Cruz and Mark Caguioa.