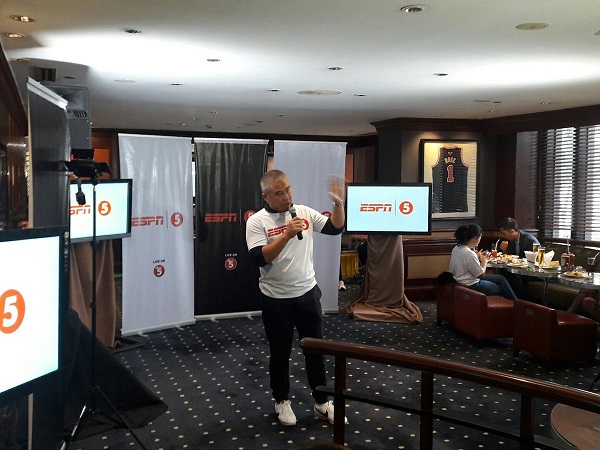 TV5 President Chot Reyes presents the partnership between ESPN and Sports 5 | Sports 5's Twitter account
Sports 5 forges partnership with ESPN
(philstar.com) - October 12, 2017 - 4:13am
MANILA, Philippines — TV5 is bringing ESPN back to the Philippines with ESPN 5.
TV5's "Sports 5" will be rebranded as "ESPN 5" and will encompass sports coverage on TV5 with additional programs from ESPN.
"Our partnership with ESPN, long recognized as the worldwide leader in sports, gives us tremendous upside in the quality of sports programming the we bring to the market," TV5 president Chot Reyes said.
For his part, Mike Morrison, vice president and general manager of ESPN APAC, said the partnership is in line with their focus to serve sports fans worldwide.
The partnership will bring US collegiate basketball coverage, including the NCAA March Madness, X Games, ESPN's Big Fights library, sports documentaries and IndyCar racing to the Philippines.
A local edition of the iconic SportsCenter show will also be produced daily.
TV5's lineup of PBA, FIBA Competition, Gilas, UFC and PSL will still be available.
A new website and a mobile app will also be launched in the coming days.