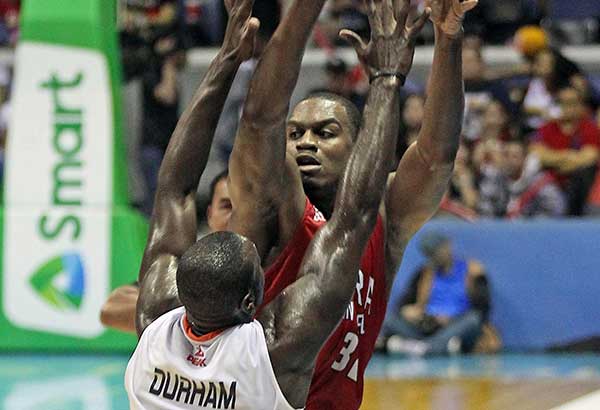 Ginebra's Justin Brownlee and Allen Durham of Meralco are expected to carry the load and inspire their teammates in the best-of-seven title series.
'Bloodbath' of a title duel begins
Game today (Lucena)
7 p.m. – Ginebra vs Meralco
MANILA, Philippines — Barangay Ginebra and Meralco reprise their bitter rivalry in an unlikely out-of-town venue that for the night will be the cauldron of the best in the pro league.
Game One is set at 7 tonight at the Quezon Convention Center in Lucena as the Gin Kings and the Bolts relive their gut-wrenching title showdown in the PBA Governors Cup last year won by Ginebra in six games.
The reigning champs and the challengers travelled to Quezon yesterday to have a feel of the playing venue in a curious setting for what is expected to be a bloodbath of a title series.
Meralco drew first blood, 114-109, in the finale last season, but Ginebra won four of the next five games, the last on a dramatic buzzer-beating trey by Justin Brownlee.
Both teams brace for a thriller of a series and there would be no quarters asked or given right in the opener, considering their fierce form in the run-up to the best-of-seven championship.
Meralco coach Norman Black said their longer break, actually three days more than Ginebra, does not spell a difference in this kind of a series.
Barangay Ginebra chief playmaker LA Tenorio, meanwhile, feels their rugged series against TNT KaTropa further honed them up for the championship with the in-form Bolts.
"TNT prepared us for Meralco," said Tenorio, insisting though that the Bolts will be a lot tougher.
The Bolts have been very impressive, dropping just three games on their way to a return in the Governors Cup finale with their do-it-all import Allen Durham.
Durham, who suffered an ankle sprain in their quarterfinal matchup with NLEX, said he feels good and can't wait for the title series to start.
"My ankle is not an issue. It's not a factor in the Star series," said Durham, consistent with huge all-around numbers in their three-game sweep of the Hotshots in the semifinals.
With Durham, the Bolts are confident they can match up with Ginebra's huge frontcourt that includes Greg Slaughter, Japeth Aguilar and Joe Devance.
The question is who will take on Durham.
Cone, Tenorio and Brownlee call Durham a beast of an import.
For Meralco, Devance could well be their biggest matchup problem.
"He's been the biggest key for us this conference as he's a matchup problem for our opponent with his ability to play both from outside and inside," said Tenorio.
But both Cone and Black should be ready for a duel of game preparations and on-game tactical adjustments.
And it could really be a long, hard-fought series for these great teams with great coaches, superb imports and competent local players.
NOTES: Fil-German forward Christian Standhardinger and Chooks To Go Phl teammates Kiefer Ravena, Jeron Teng, Raymar Jose and Jett Manuel lead a total of 44 players who made themselves available for the 2017 PBA Rookie Draft. Jason Perkins, Davon Potts, Felix Apreku, Julian Sargent, Andreas Philip Cahilig, Robert Herndon and Zachary Nicholls of Arellano U are the other Fil-foreign hopefuls. Homegrowns listing up are Jian Lloyd Abrigo, Monbert Arong, Wilson Baltazar, Arvie Bringas, Jebb Bulawan, Elmer Cabahug, Gwynne Capacio, John Karlo Casino, Gabriel Dagangon, Christian de Chavez, Jeremiah dela Peña, Ebrahim Enguio, Lervin Flores, Joseph Gabayni, JonJon Gabriel, Christian Geronimo, Jayson Grimaldo, John Ervin Grospe, Michael Vincent Juico, Christian Moralde, Joseph Nalos, Rey Nambatac, Clyde Drexler Neypes, Sidney Onwubere, Jerome Ortega, Emil Palma, Roldan Sara, Jomari Sollano, John Rey Sumido, Mark Jayven Tallo and Thomas Torres.