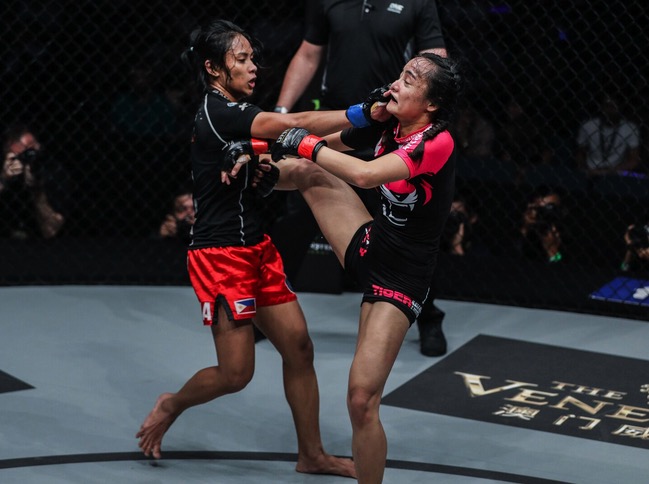 Jomary Torres (left) during her ONE Championship debut in Macau last August. She breezed past Thai star Rika Ishige. | ONE Championship
Torres eyes to follow up on stellar ONE debut
(philstar.com) - October 20, 2017 - 6:30am
MANILA, Philippines — After a shocking debut, Jomary Torres is looking to continue impressing.
The 21-year-old Zamboanga del Norte native, who stood out in her first ONE Championship fight against the highly touted Rika Ishige, is looking to extend her winning ways at the expense of Nita Dea.
"This is my chance to establish my first winning streak in ONE. It's not impossible," Torres said in Filipino. "That's why I am exerting a tremendous amount of effort in training. I want to keep on winning."
Torres will be taking on Dea on the "Hero's Dream" card in Yangon this November 3. And while the latter has no experience in an MMA cage yet, her repertoire of accolades makes up for it.
The 26-year-old Indonesian is a national wrestling champion and a two-time national Wushu Sanda champion. With a background heavily rooted in kickboxing, she has won 12 of her total 14 outings as a pro in the discipline.
"From what I saw, I think she's is a striker. She does not seem to hit the ground all that much," Torres offered. "I am prepared to go toe-to-toe or take the match to the ground, wherever I think I have the advantage."
With her fight just around the corner, the Filipina fighter said she's looking to channel something from her successful debut.
"I felt really nervous in my first bout. But when I saw my opponent was right in front of me and remembered all the people who supported me, I relaxed and slowly put my focus on winning the match," she shared.
"I want to win again because I want to give back to my gym and the people who love and support me. I am competing for my country. Everything I do is for all of them and as long as I can do this, I will keep doing this," Torres ended.