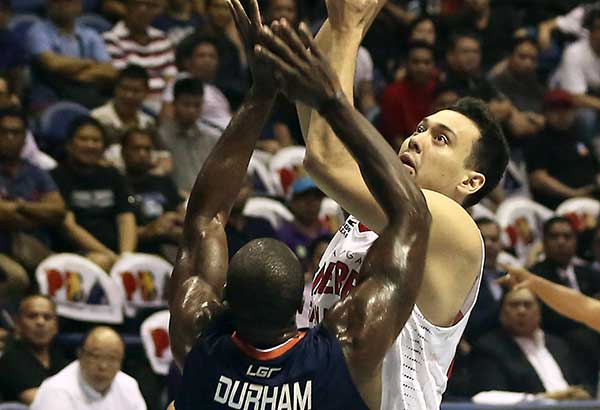 Ginebra's Greg Slaughter shoots against Meralco's Allen Durham in Game 4 of the PBA Governors' Cup Finals at the Smart Araneta Coliseum. MIGUEL DE GUZMAN

Bolts repeat over Kings, tie series
MANILA, Philippines — The Meralco Bolts ran perfect plays at the finish to outlast the Barangay Ginebra Kings in a fiercely fought match, carving out an 85-83 win to pull even after four games of the PBA Governors Cup best-of-seven title series at the Smart Araneta Coliseum last night.
Allen Durham, Baser Amer and Reynel Hugnatan executed big plays and made the winning shots to beat a Ginebra side that shot bricks in the crunch.
"We have a series," said Meralco coach Norman Black after they made it two in a row to force a 2-2 tie in the series.
"Our execution down the stretch was very good except for a layup that Jared Dillinger missed. We ran our plays smoothly. It's always beautiful if it works; it's not if it doesn't," Black also said after their escape win that followed up their 94-81 triumph in Game Three.
Ginebra coach Tim Cone rued coming up a shot short of taking a 3-1 series lead.
"It's a great game and we just came up short. We're playing a tough team and they've done a good job on pinpointing our weaknesses. But we're very much okay going to Game Five," Cone said.
The two teams break the 2-2 tie in a pivotal game tomorrow over at the Philippine Arena in Bocaue, Bulacan.
The Bolts squandered 13-point spreads in the third period but kept their poise and composure, and banked on clutch shots by Durham and Amer to win the tight game watched by a raucous crowd of over 16,000.
Durham converted an under-goal shot off a perfect dish by Hugnatan for the winning basket with 42 ticks to go.
The Kings could've still salvaged the game but Sol Mercado and Justin Brownlee muffed a three-point shot each. Brownlee later also missed a 10-footer and a follow-up in the dying seconds.
Earlier, the Bolts ran a play where Durham set up Amer for a trey.
Amer, held scoreless in Game Three, capped a solid 11-point outing with that triple that pushed Meralco ahead at 83-81 with 1:16 to go.
Ginebra then tied the game for the last time at 83 on two free throws by Brownlee off Hugnatan nine seconds later.
Durham, who paced himself in the first half before working hard in the second half, finished with 28 points and 18 rebounds.
Chris Newsome came up with 18 markers and 11 boards while Hugnatan contributed 14 markers, seven boards and four assists.