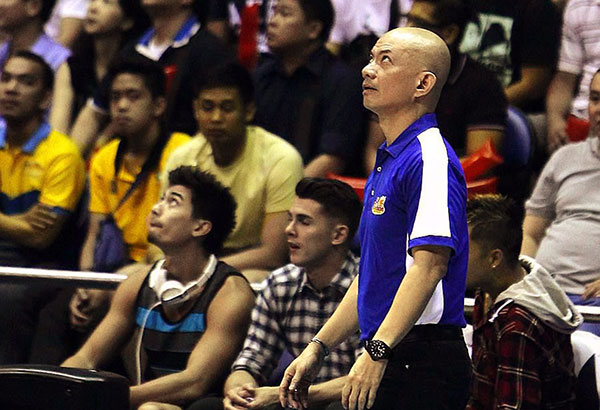 Guiao rues controversial SMB-KIA trade
Abac Cordero
(The Philippine Star) - October 30, 2017 - 4:00pm
MANILA, Philippines — NLEX coach Yeng Guiao could only watch as Fil-German Christian Standhardinger, this year's No. 1 draft pick, got up the stage and slipped his long arms inside a San Miguel Beer team jacket.
What the fiery Filipino coach saw was a 6-foot-8, 220-pound headache.
He said with Standhardinger playing alongside the 6-foot-10 perenial MVP June Mar Fajardo, beating San Miguel is now twice as hard as before.
"May June Mar ka na, meron ka pang Standhardiner. Ang hirap na nga talunin ng San Miguel before, mas lalo pa mahirap talunin ngayon," said Guiao after the draft rites staged at the Robinson's Place in Ermita.
Guiao was one of those who raised issues on the trade between San Miguel and tailender Kia, which gave up its rights for this year's top pick in exchange for a future SMB pick and three players which the Beermen could really afford to lose.
Boos were heard from a certain section of the crowd that packed the mall for the star-studded event when Standhardinger's name was called although the boos were not really directed at the player.
Guiao said it's water under the bridge now.
"Nalulungkot ako. Hindi ako nagagalit. I'm just sad. And there's nothing else I can say because I'm also part of the league," he said.
Instead, the former congressman from Pampanga is taking it as a challenge. He said the rest of the coaches in the PBA should do the same.
"I will take it as a challenge. Our jobs as coaches just got tougher. But that's a challenge for me personally and a challenge to all the coaches in the league.
We should do a better job now," he said.
The best way to beat San Miguel, he added, is to make sure Fajardo does not make it to the venue of each game.
"Siguro bago umalis ng bahay si June Mar i-flat mo muna ang gulong ng kotse niya. Mga apat na gulong. (Maybe we can puncture the tire of his car. Make it all four tires)," he said in jest.
"Anyway, we have a few weeks to think about it," he added.
Guiao said big guys with great talent doesn't come too often in the PBA, and it's such a pity that they seem to end up together in one team, also citing Ginebra's Greg Slaughter (7'0") and Japeth Aquilar (6'9").
"The problem is guys like June Mar, like Slaughter, like Standhardinger, like Aguilar, they come once every five years or even more," he said.
But again, there's nothing more he can do but try to beat those guys.
"That's a reality now," Guiao said.
NLEX left Sunday's draft with its own big fish – spitfire Kiefer Ravena.
But that's another story.