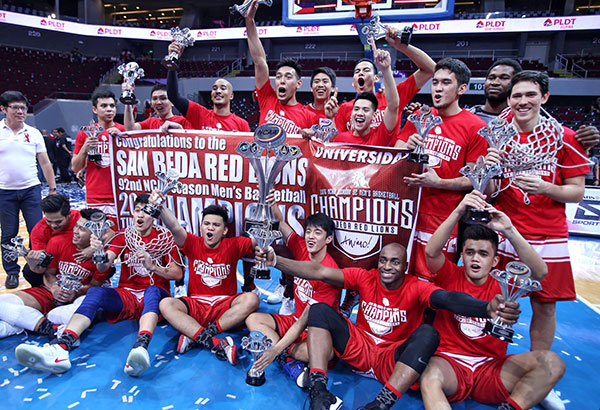 The San Beda Red Lions hoist their trophies as they celebrate their ninth NCAA championship with a sweep of the Arellano U Chiefs last season. | Joey Mendoza
Lions out to 'preserve tradition' with 12th straight finals stint
MANILA, Philippines – San Beda has made it to the NCAA finals the last 11 seasons. It is not about to miss it now.
"We have a tradition to preserve and we will do our best to preserve it," said San Beda coach Boyet Fernandez, whose Lions will battle the San Sebastian Stags at the Mall of Asia Arena in Pasay City on Tuesday for the right to play the Lyceum of the Philippines U Pirates in the 93rd NCAA finals.
The Lions have been the league's yardstick for the last decade after making it to the finals in 11 straight seasons and winning nine championships along the way.
The only two crowns that slipped San Beda's grasp came in 2009 when San Sebastian's "Pinatubo Three" of Calvin Abueva, Ian Sangalang and Ronald Pascual lorded it over the field and in 2015 when Aldin Ayo's Letran Knights came out of nowhere to reign supreme.
This year, San Beda finished No. 2 at the end of the elimination round behind sweeper LPU and a 12th straight finals stint looms over the horizon.
And only San Sebastian stands on its way.
Fernandez said they would need to rely on its league-best defense after it held opponents to 65.8 points a game.
"We've made it this far because of our defense and we hope to continue to play harder on that end," he said.
San Sebastian is also as stingy as it owns the NCAA's third-best defense by shackling their foes to 70.2 points a game.
The one-game duel will not be without drama though as Fernandez once called out to San Sebastian's Michael Calisaan as having done "dirty plays" that did not sit well with the latter and his coach Egay Macaraya.
Fernandez though said they'll just focus on the game.
"We just want to concentrate on this game and not be distracted with other issues," said Fernandez.
Fernandez also rued their 19-day break.
"It was really long but we tried our best to stay in shape and we even played tune up games against other teams including a team in the ABL (ASEAN Basketball League)," he said.