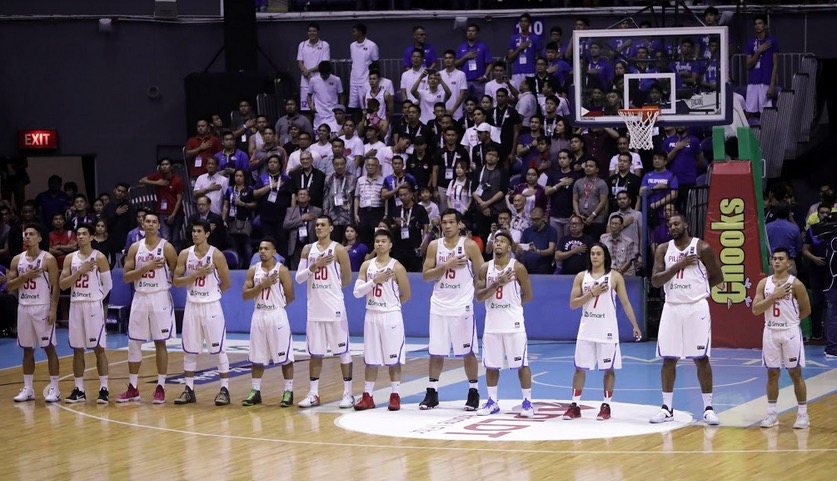 The Philippines' men's national basketball team, Gilas Pilipinas, during the 2017 Seaba Championships | PBA Images
Gilas gears up for FIBA World Cup Asian qualifiers
(philstar.com) - November 3, 2017 - 10:00am
MANILA, Philippines — With the 2019 FIBA World Cup Asian Qualifiers just around the corner, Gilas Pilipinas management and coaches together with the Samahang Basketbol ng Pilipinas are leaving no stones unturned.

"Every tournament we joined this year was done in preparation for this," said SBP chair emeritus Manny V. Pangilinan. "Though the new FIBA format for qualification is different from past editions, we are confident that we will adjust to this and return to the global stage once more."

The 2019 iteration of the qualifiers will have a new format: a home-and-away structure dividing regions into four groups in the opening round. Gilas is classified into Group B with Australia, Chinese-Taipei and Japan.

Each region will have six slots up for grabs in the global skirmish.

With less than 21 days to prepare before the team embarks to Tokyo, Japan, for the team's first game, Gilas is confident that the basketball camps in the country will work together as a team in preparation for FIBA.

"We are hoping that the best of the best players in the country will join Gilas for this tournament. We are calling for the support of every club team and every collegiate program to support this endeavor," shared Pangilinan.
Gilas' training camp for the qualifiers begins on Friday, November 3.

Moreover, the team and the people behind the Gilas program is calling for every Filipino to support our team by expressing their support on social media and during the team's first home game on November 27 against Chinese-Taipei.

"Let's show the world once again what puso is all about!" closed Pangilinan.