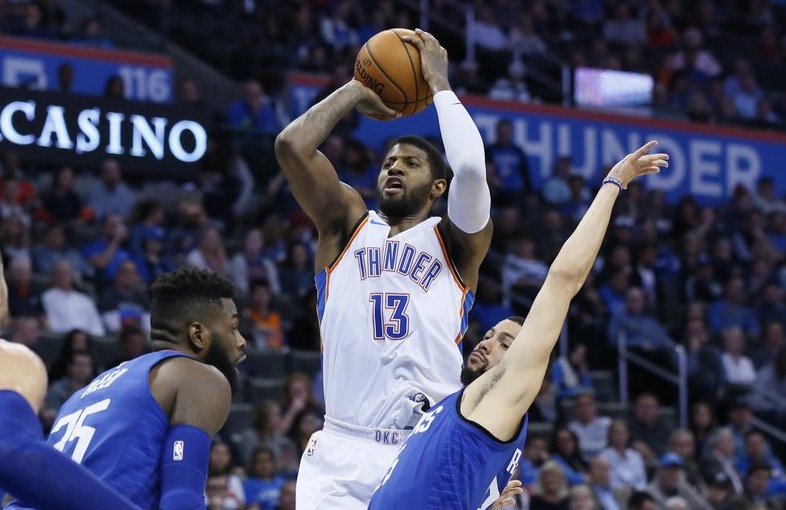 Oklahoma City Thunder forward Paul George (13) shoots between Los Angeles Clippers center Willie Reed, left, and guard Austin Rivers, right, in the third quarter of an NBA basketball game in Oklahoma City, Friday, Nov. 10, 2017 (Saturday in Manila). Oklahoma City won 120-111. | AP Photo/Sue Ogrocki
George scores 42, Thunder beat Clippers to snap 4-game skid
Cliff Brunt
(Associated Press) - November 11, 2017 - 10:00am
OKLAHOMA CITY — This was the Paul George that Thunder fans had been waiting for.
George scored 42 points and Oklahoma City snapped a four-game losing streak with a 120-111 victory over the Los Angeles Clippers on Friday night.
It was George's highest scoring performance since joining the Thunder in an offseason trade with Indiana. He said his new teammates are starting to figure out how his game works.
"It really is just chemistry," he said. "When I got here, one of the talks we had about what was best with offense was the movement. Coach (Billy) Donovan was happy that he could utilize me in that situation of moving and getting some flow in offense, so I'm comfortable with that. It's good for me to get going and move around a little bit."
Russell Westbrook had 22 points and eight assists in the Thunder's highest-scoring game of the season. Carmelo Anthony and Alex Abrines each scored 14 points.
Westbrook and Anthony made it tough for Los Angeles to deal with George.
"It's hard because they have so many options," Clippers coach Doc Rivers said. "A lot of times you have the one-two option, they've got the one-two-three option. It's tough."
George made 13 of 22 shots and had nine rebounds and seven assists.
"I was just trying to stay in attack mode," he said. "If plays opened up and there was opportunities to find guys, I was trying to, but it just seems that a lot of the plays just ended up me one on one with a big at the rim."
Lou Williams scored 35 points for the Clippers, and Blake Griffin had 17 points on 5-for-19 shooting. Los Angeles has lost four straight.
The Thunder led 63-55 at halftime behind 21 points by George.
"All of the sudden, he got it going," Rivers said. "I thought that changed the game when he got it going. That stretched the floor some more."
The Thunder continued their surge early in the third quarter. A 3-pointer by Anthony pushed Oklahoma City's lead to 15. The Thunder increased their advantage to 20 before the Clippers chipped away late in the quarter to close to 94-86 at the end of the period.
A 3-pointer by Austin Rivers tied it at 105 midway through the fourth, but the Thunder held the Clippers to one field goal in the final three minutes to regain control.