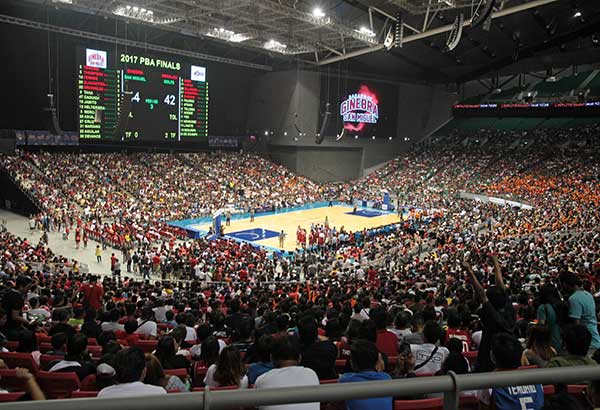 A crowd of 36,445 at the Philippine Arena watched Game 5 of the Governors Cup championship last October 22. | Jun Mendoza
PBA hauls P200M in gate receipts in Season 42
LOS ANGELES – The Philippine Basketball Association breached the P200-million mark in total gate receipts in its 2016-17 season, gaining a three-percent increase from its sales in the previous season — thanks largely to the record attendance in the Ginebra-Meralco Governors' Cup finale.
Through the Governors' Cup semifinal round, the PBA was actually down by 19 percent from the previous season sale.
The number skyrocketed and broke the P200-million mark as the Barangay Ginebra Kings and the Meralco Bolts played before super huge crowds from Game Five to Seven at the Philippine Arena.
The three games played in the cavernous playing venue in Bocaue, Bulacan drew a staggering attendance of 144,173 — 36,445 in Game Five, 53,642 in Game Six and 54,086.
If the average ticket prize was P250, the league could easily earn over P36 million in those three games alone.
There were no exact figures available as the outgoing chairman and the league commissioner failed to make the official report on the scrapping of the PBA board planning session here.
Incoming chairman Ramoncito Fernandez of NLEX, TNT KaTropa's Patrick Gregorio, Rain or Shine's Mert Mondragon and Phoenix Petroleum's Raymond Zorrilla failed to make it here.
Those who flew in here didn't get to sit down together even in informal talks.
In a dinner hosted by Kia's Bobby Rosales in the trendy Spagos restaurant Saturday, no-shows were Alaska Milk's Dickie Bachmann and Meralco's Ryan Gregorio.
Then there were available tickets for everybody in the Los Angeles Clippers-Philadelphia Sixers match at the Staples Center Tuesday morning.
Excusing themselves from this activity, however, were Rosales, San Miguel Beer's Robert Non, Ginebra's Alfrancis Chua, Star's Rene Pardo, GlobalPort's Erick Arejola.
Blackwater's Silliman Sy was the only one present in all activities.
The governors and the administration staff of the league led by commissioner Chito Narvasa are already leaving Los Angeles Wednesday without the opportunity to resolve their dispute on the term of the league commissioner.
They're heading different directions, with all seemingly clueless how to solve the impasse.