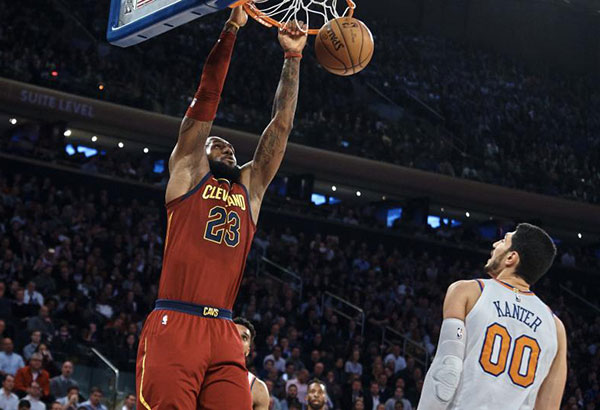 LeBron James. AP/Andres Kudacki
James, Korver spark Cavs surge
(Associated Press) - November 14, 2017 - 4:00pm
Cleveland outlasts NY Knicks
NEW YORK – LeBron James got shoved by the Knicks and then benched by his coach.
Neither could keep him down for good.
James had 23 points, 12 assists and nine rebounds, Kyle Korver scored 19 of his 21 points in the fourth quarter to spark a huge comeback, and the Cleveland Cavaliers beat New York, 104-101, on Monday night.
James also had a technical foul after a first-quarter altercation with Frank Ntilikina and Enes Kanter, which seemed to charge up the Knicks. But he didn't lose his poise then or midway through the third quarter, when Tyronn Lue yanked the five starters with the Knicks on their way to a 23-point lead.
"I knew we had another half," James said. "Didn't know that I was going to get snatched like that early in the third, but I felt if I got back in I could still make some plays to help our team win."
He did, hitting two of the Cavaliers' nine 3-pointers in the fourth after they made just seven through three quarters and helping the Cavs charge back for their eighth straight victory at Madison Square Garden.
Elsewhere, Washington rammed past Sacramento, 110-92; Milwaukee stopped Memphis, 110-103; New Orleans edged Atlanta, 106-105; Minnesota downed Utah, 109-98; Portland crushed Denver, 99-82; Golden State whipped Orlando, 110-100; the Philadelphia 76ers nipped the Los Angeles Clippers, 109-105; and Los Angeles Lakers defeated the Phoenix Suns, 100-93.
Back in New York, Cleveland outscored the host, 43-25, in the fourth, making more 3s than the Knicks had baskets (8). But the turnaround started late in the third with the second unit in.
"Now we just kept talking about chipping away, chipping away," Dwyane Wade said. "And then as you saw Kyle Korver got going and then when you saw LeBron check back in, you knew, OK. You saw the waves coming."
Tim Hardaway Jr. had 28 points and 10 rebounds, and Kanter added 20 points and 16 boards. But Kristaps Porzingis shot only 7 for 21 while scoring 20 points as the Knicks blew their chance to beat the Cavs for the second time this season.
The game was just two days after James, following a victory in Dallas, said Mavericks rookie Dennis Smith Jr. should be a Knick. The Knicks passed on Smith in the draft, taking Ntilikina one spot earlier at No. 8. (AP)