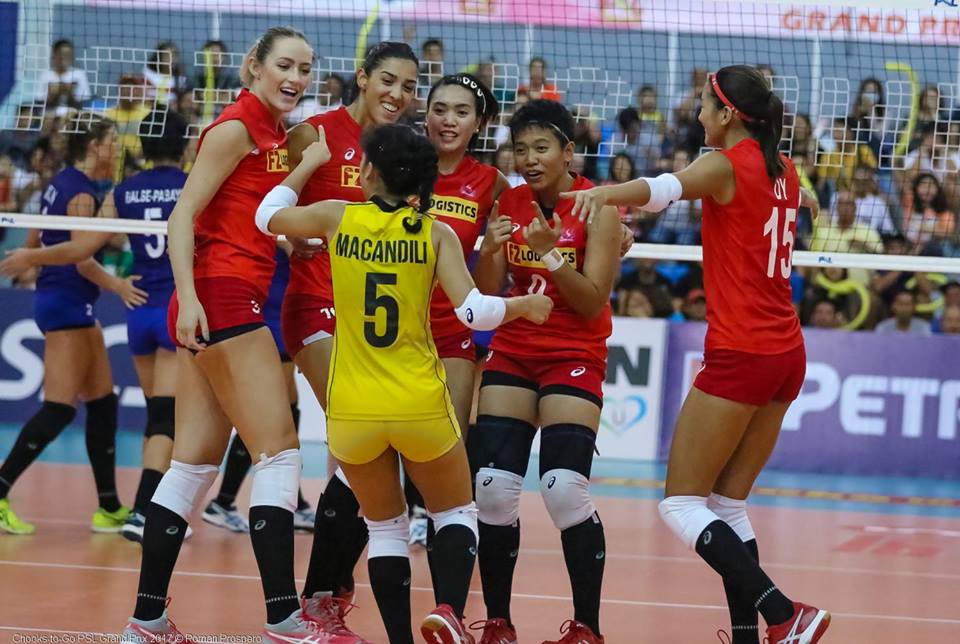 The F2 Logistics Cargo Movers remain as the only unbeaten team in the 2017 Chooks-to-Go Philippine Superliga Grand Prix. | Philippine Superliga/ Roman Prospero
F2 shoots for 4th straight win vs Generika-Ayala
(philstar.com) - November 15, 2017 - 7:51am
Games Thursday
(Filoil Flying V Centre)
4:15 p.m. – Cocolife vs Iriga City
7:00 p.m. – Generika-Ayala vs F2 Logistics
MANILA, Philippines — Powerhouse F2 Logistics aims for a firmer hold of the top spot when it clashes with Generika-Ayala Thursday n the Chooks to Go-Philippine Superliga (PSL) Grand Prix at the Filoil Flying V Centre.
Action erupts at 7 p.m. following the 4:15 p.m. encounter between Cocolife and Iriga City.
Bannered by a pair of powerful imports in Maria Jose Perez of Venezuela and Kennedy Bryan of the United States, the Cargo Movers remain unbeaten following Foton's sorry loss to rival Petron.
The Blaze Spikers creamed the reigning champions, 25-21, 25-22, 12-25, 25-20, in a fierce four-set battle that lasted for nearly two hours, before a massive holiday crowd late Tuesday.
Lindsay Stalzer and Hillary Hurley displayed another strong offensive game, finishing with 23 and 20 points, respectively, while middle blockers Mika Reyes and Remy Palma took care of the defense to help Petron survive a 29-point explosion of Serbian Sara Klisura.
With that, the Blaze Spikers took the second spot behind the Cargo Movers with a 5-1 win-loss card while the Tornadoes fell to third with a 4-1 mark as the tourney approaches the crucial stretch of the single round eliminations.
After missing the league's first two weeks, the Cargo Movers were off to a sizzling start as they clobbered the Blaze Spikers before prevailing over Sta. Lucia Realty and Cocolife for an immaculate 3-0 card.
Against the Asset Managers, Perez shone with 17 points while Kim Dy and Bryan chipped in 10 markers for the Cargo Movers, who are in hot pursuit of their first-ever crown in the season-ending conference that is billed as the toughest and most competitive women's volleyball competition in the country.
For F2 Logistics head coach Ramil de Jesus, it was their relentless defense and good blocking that keyed their victory.
"We had a good net defense," said de Jesus, noting their huge advantage in the blocks department, 9-1, against Cocolife. "I hope we can sustain this good performance. We're still unbeaten and that's what we want to maintain."
Maintaining their hot streak, however, is easier said than done.
The Lifesavers are also coming off a dominant victory over Iriga City, 25-16, 25-15, 25-21, last week.
"It's all about having proper mindset," said Generika-Ayala head coach Francis Vicente, who limited the minutes of import Darlene Ramdin after the Trinidad and Tobago national team player fell ill.
"F2 Logistics is such a strong and solid team. We will do our best to prepare and put ourselves in proper mindset in order to win."
Aside from Ramdin, also tipped to carry the load for the Lifesavers are Croatian reinforcement Katarina Pilepic and American setter Penina Snuka as well as the local crew of Angeli Araneta, Chloe Cortez and Gen Casugod.