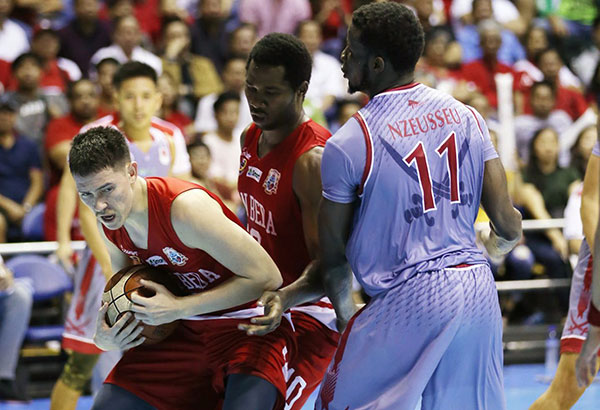 San Beda would need another solid game from the likes of Robert Bolick and Donald Tankoua to keep possession of the NCAA crown against the Lyceum Pirates, led by Mike Nzeusseu. Joey Mendoza
Will it be 'Bitter-Sweep'?
Joey Villar
(The Philippine Star) - November 15, 2017 - 4:00pm
Lions eye crown versus embattled Pirates in Game 2
MANILA, Philippines — The San Beda Red Lions are within a win of claiming the crown via a two-game sweep of the final over the Lyceum of the Philippines U Pirates who have earlier basked in the glow of a momentous 18-0 sweep of the elims.
How fortunes have shifted.
The Red Lions go for the clincher against the embattled Pirates in Game Two of the NCAA Finals at the Smart Araneta Coliseum today in a season that has all been Pirates until the old champs stepped up in the pressure-laden finale.
Gametime is at 3:30 p.m.
Facing a team which swept them ­in the elims, the Lions leaned on their championship experience and Robert Bolick's endgame heroics to stop the Pirates, 94-87, in the opener of the best-of-three series last Friday.
That put the Mendiola-based squad one win away from retaining the crown for its ninth championship in the last 11 seasons and a league-best 21 titles.
San Beda coach Boyet Fernandez knows the Lions are in a very familiar place.
"I kept reminding my players what I told them in my return last January and I'm happy they took it to heart," said Fernandez, who told the Lions, after re-assuming the coaching reins, that he wanted nothing but a championship.
Ten months later, they're now on the verge of completing the mission.
"There was no doubt in my mind that if we keep the faith and continue to improve and work hard, we'll have a chance," he said.
Thanks to Bolick, who poured in nine of his team's last 11 points in the final 1:28 minutes highlighted by a triple and a free throw to power the Lions from 12 points down in the third period to the stirring victory.
PBA-bound Davon Potts also stepped up to drain in four triples and help spark the rally before hitting crucial charities in the stretch.
Despite the setback, the Pirates, whose 18-game sweep of the elims produced a lot of firsts in the league, remain upbeat of their chances for a breakthrough championship.
And LPU mentor Topex Robinson said they would have preferred to carry the underdog tag.
"I guess we're the underdogs now," said Robinson, whose wards' best finish in LPU's first six seasons was sixth twice.
He believes the Pirates will fight back.
"The good thing about this series, you have to win two games to win the championship. And hopefully, we'll get one," he said.