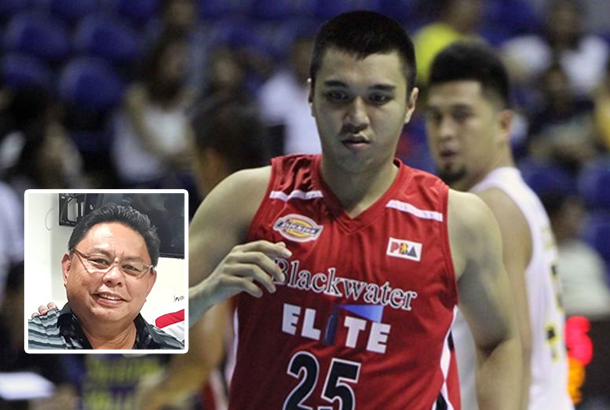 Former Blackwater Elite Art dela Cruz; inset, team owner Dioceldo Sy | Composite Image
No regret in trading Art Dela Cruz for Chris Ellis, says Blackwater owner
MANILA, Philippines — On paper, it may look like Blackwater drew the terribly shorter stick in their two-for-two swap with Barangay Ginebra: Chris Ellis has gone missing in action and Art dela Cruz is making a comeback.
But team owner Dioceldo Sy is not losing sleep over the decision to ship away Dela Cruz. After all, it was a decision "made as a father."
At the time of the trade, the 25-year-old talent out of San Beda was nursing an achilles injury.
"Well at that time, letting an Art dela Cruz go is a very difficult decision. Because before we traded him out, we checked on his achilles. We had him MRI'd and we saw a spot," Sy shared. "We had it checked out by [our team doctor] and said it's a cyst and requires to be operated again."
"So what can you do? The father approached us if we could trade his son. Syempre he's the father eh. And me as a father, also, I want my son to have a career after basketball," he explained.
"Me, being a father at heart, I had to trade him out because I know if the basketball career doesn't work, he can still land a job in San Miguel," he offered.
Sy went on to say that the deal was more of helping out Dela Cruz and his unknown future rather than simply making a business deal to win in the league.
"It's more than a basketball deal," he said. "So people might not understand my decision why I did it. But being a father — and I understand the mind of one — with a heavy heart, we had to trade him."
Right now, the Elite are struggling to keep get their hands on Ellis, whom they got with Dave Marcelo in that trade with the Gin Kings. The Filipino-American cager, since reporting once after the swap, the high-flying guard has not showed up in practice.
"I think he is on his way out of the PBA," Sy said of the All-Star. "They took a chance, we took a chance, too. We got Marcelo naman who is good."
Right now, all the executive could wish is for things to fall in their rightful places — and that includes Ellis finding his way back to his passion and of course, Dela Cruz playing the game he long worked hard for.