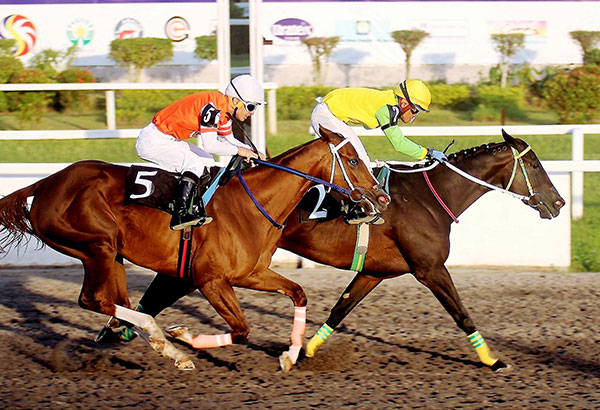 Undefeated race mare Hitting Spree (2) with jockey Kelvin Abobo on the reins in the Philracom Amb. Eduardo Cojuangco Jr. Cup.
Top racing stable wins five championship races
(The Philippine Star) - November 18, 2017 - 4:00pm
MANILA, Philippines — Local racing powerhouse SC Stockfarm further raised the bar Sunday as five of its headliners – Hitting Spree, Brilliance, El Debarge, Sotogrande and Showtime – conquered their respective fields in another tour de force at the Santa Ana Park racetrack in Naic, Cavite.
Breakout imported race mare Hitting Spree (USA) pulled off an impressive wire-to-wire win in the centerpiece 2017 Philracom Ambassador Eduardo Cojuangco Jr. Cup to reaffirm her mastery of the open handicap division.
"It was a hard-fought win against a very game rival but she showed everyone that she was up to the challenge," said winning jockey Kelvin Abobo, who piloted the four-year-old mare to her eighth consecutive victory to remain undefeated locally.
Hitting Spree's celebrated couple-entry and defending champion Sakima (USA) did not fare this time around as he labored with the heavy handicap weight of 58 kgs. for the 2,000-meter journey and could only finish third, well behind the in-form Atomicseventynine (USA) who stalked the winner from the opening of the gates to the wire.
"Notwithstanding his two defeats against Hitting Spree this year, Sakima's stature as a champion remains intact and he will have the chance to further cement his legacy when he enters stud at SC Stockfarm by early next year," said Oliver "Jojo" Velasquez, the man behind the burgeoning stable of champions.
Promising two-year-old colt Sotogrande kickstarted SC Stockfarm's auspicious string of major race victories with an easy win in the PRCI-sponsored Marho, Juvenile Colts followed by filly El Debarge's romp in the counterpart Philracom-sponsored Marho Juvenile Fillies. Both star two-year-olds are sired by SC Stockfarm's resident stallion Cat Brulay (USA), trained by Tomasito "Chito" Santos and ridden by jockey John Alvin Guce.
Soon after, three-year-old Brilliance finally got over the hump as she finally slayed archrival Smokin Saturday in a thrilling stretch duel to rule the second leg of the Philracom 3YO Fillies Stakes with J. Abobo on board. Much later in the day, seasoned stakes campaigner Showtime gave SC Stockfarm its fifth major win with a huge final burst in the PCSO-sponsored Marho Sprint for jockey Abobo's encore performance, which was also his fifth for the day.
"Kundisyon naman ang lahat ng mga kabayo ng SC kaya di kami masyadong nasorpresa. Konting suwerte lang talaga sabi ko, at parang nadala rin kami ng buwenas ni Kelvin (Abobo)," said Santos, who conditioned four of the five big winners.
Next up for the dominant racing team is the upcoming Philtobo Juvenile Championship Day, the premier battleground of two-year-olds on Dec. 3 at the Santa Ana Park, which will feature undefeated two-year-olds Sotogrande and El Debarge.