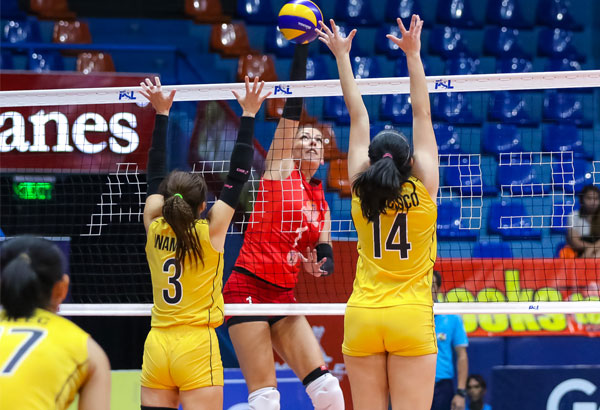 Tamara Kmezic of Iriga attacks the defense of UST's over Yuki Inamaso and Tin Francisco.
Iriga ends slump, nips Victoria-UST
(philstar.com) - November 23, 2017 - 10:55am
Games Friday:
(Batangas City Sports Center)
4 p.m. – Petron vs Iriga City
6 p.m. – Foton vs F2 Logistics
MANILA, Philippines – Rookie team Iriga City finally snapped its losing skid when it clobbered Victoria Sports-UST, 25-19, 25-21, 25-20, in the Chooks to Go-Philippine Superliga Grand Prix Thursday at the Filoil Flying V Centre in San Juan.
Serbian Tamara Kmezic was at her best, towing the Lady Oragons back to winning track after four consecutive setbacks in this prestigious club tourney sponsored by Mikasa, Grand Sport, Senoh, Mueller, Island Rose, Cloudfone and UCPB Gen.
With the win, the Iriga City is now fashioning a 2-4 win-loss slate, giving it a handsome chance to avoid the top seed in the sudden-death quarterfinals on Dec. 5 in this battle that also has Gerflor and Gold's Gym as technical sponsors and ESPN5 as broadcast partner.
The Lady Oragons, however, will still be facing heavyweights Petron and F2 Logistics while their closest pursuer — Sta. Lucia Realty — has to prevail over Cignal, Cocolife and Generika-Ayala to avoid claiming the eighth seed.
The Lady Realtors are still playing Cignal as of press time.
"We need this victory to boost our ranking in the quarterfinals," said Iriga City coach Parley Tupas, whose wards finally nailed a victory after a month of frustration.
"We want to come up with a strong finish (in the eliminations) and prepare for the quarterfinals where we would probably be facing top teams like Petron, F2 Logistics and Foton. Our last two matches against Petron and F2 Logistics will be very crucial."
Kmezic, the league's tallest import at 6-foot-7, wreaked havoc at the offensive end, delivering 17 attacks, two aces and a block while Janeca Lana and Japanese import Saama Miyagawa chipped in nine and seven markers, respectively.
Tupas said Lana is now filling the void created by Grethcel Soltones, who was slapped with a one-year ban after playing in an exhibition match that was not sanctioned by the league.
Although Lana's contribution was far from Soltones' production, Tupas said they would still gladly take it.
"She replaced Soltones in our rotation. She's the youngest in the team so I'm giving him exposure," he said, admitting that they are missing Soltones and her experience when the game is on the line.
"She's a big help to us. We lost around 12 points a game," he said. "But we can't do anything about it. Rules are rules. We just have to move on and look forward to having a strong finish."
Carla Sandoval and Dimdim Pacres chalked up 14 and 11 points, respectively, to lead the young Tigresses, who had a solid performance at the service box with 10 aces.
They, however, were already eliminated following a straight-set loss to the Lady Realtors last week.