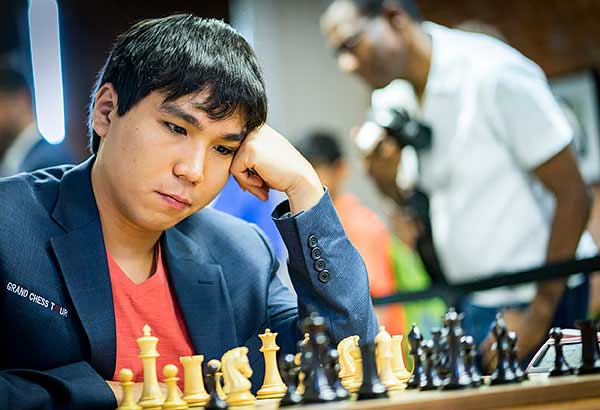 Lucky So escapes with draw vs Carlsen in London Chess Classics
(Associated Press) - December 7, 2017 - 4:36am
MANILA, Philippines – Wesley So will need a little dose of luck to have a chance against reigning world chess champion Magnus Carlsen.
He got one.
So took advantage of a Carlsen blunder late to escape with a 68-move draw and stay in a big, seven-man group at second spot behind leader Fabiano Caruana of the United States after five rounds of the London Chess Classics Wednesday night.
The top-seeded Carlsen, who is waiting for his challenger in the World title fight next year, won a pawn after a series of tactical exchanges and would have skewered So's rook after the latter greedily captured a pawn in the endgame with a rook check on the 60th move.
But the Norwegian champion shockingly missed it, allowing the Cavite-born, Minnetonka, Minnesota native to snatch a draw and half a point.
The mighty Carlsen is human after all.
The split kept So at No. 2 with Carlsen and five others with 2.5 points, a full point behind Caruana, who streaked to his second straight win at the expense of Indian Vishwanathan Anand in 39 moves of a Ruy Lopez with 3.5 points.
It was a fifth straight draw for So, who also halved the point with French Maxime Vachier-Lagrave, Russian Ian Nepomniachtchi, US teammate Hikaru Nakamura and Englishman Michael Adams.
The match could be a sneak preview to next year's World title showdown as So is gunning to top the Candidates Tournament set in June next year in Berlin, Germany that would arrange their dream duel for the most coveted title of all.