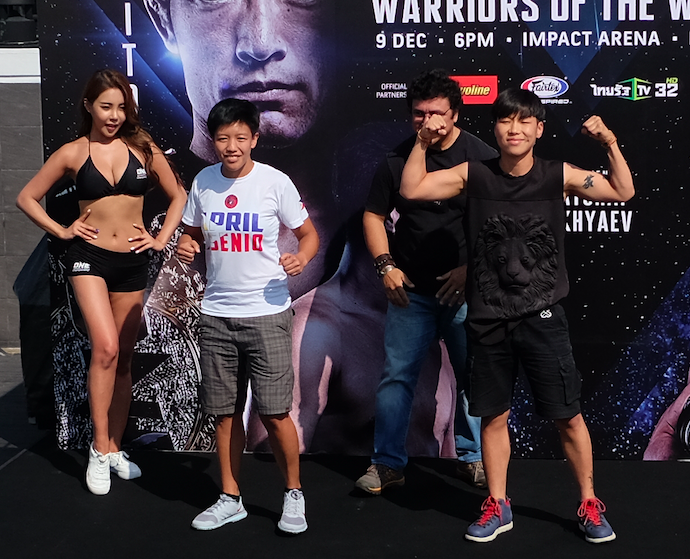 April Osenio (left) | Philstar.com/Denison Rey A. Dalupang
Osenio seeks to end Lakay's slump in ONE Championship
BANGKOK, Thailand — April Osenio is coming off a year's worth of break. She is aware of Team Lakay's not-so-pleasant showing at home. She acknowledges that there won't be a partisan crowd rallying behind her here. Oh, and that her foe has a penchant for statement flashy finishing moves.
While Osenio knows how big of a ball of pressure is all of that combined, the Team Lakay ward remains unfazed.
"May pressure," she admitted. "Pero kaya pa din naman."
"Para sa akin, pinaghandaan ko talaga ito kasi this is my career and I should take good care of it," said Osenio, one of the two female fighters to take the ONE Championship cage on Saturday night at the Impact Arena here.
Osenio took more than 11 months away from mixed martial arts as she continued to pursue a degree. Now a graduate of Criminology, she said she couldn't more thrilled to again do something she enjoys.
And a big chunk of her motivation is to make sure that she helps erase the bitter taste of Team Lakay's most recent outings.
"'Yung nangyari kila coach Eduard (Folayang), kila Gina (Iniong)," she pointed out. "Mag-e-end na 'yung taon kaya kailangan ko ding kumayod."
Folayang, the face of Philippine MMA, was dethroned from the lightweight throne by Martin Nguyen by way of knockout in a blockbuster card at home earlier in November. Gina Iniong, after swiftly winning over her foe in the same card, fell to strawweight contender Mei Yamaguchi weeks later.
Osenio will be facing China's Jingan Xiong in a strawweight clash in the card. Also coming from a loss, the Filipino said she has bolstered her ground game to brace for her upcoming assignment.
"(Sa ground game) kasi ako natalo," she said of the way she fell to Jenny Huang. "'Yung strength niya (Jingan) is striking. Sa akin, 'yung base ko is striking, kaya doon din ako sa striking (aasa).
Philstar.com will be blogging the "Warriors of the World" showpiece, which comes off wraps at 6 p.m.