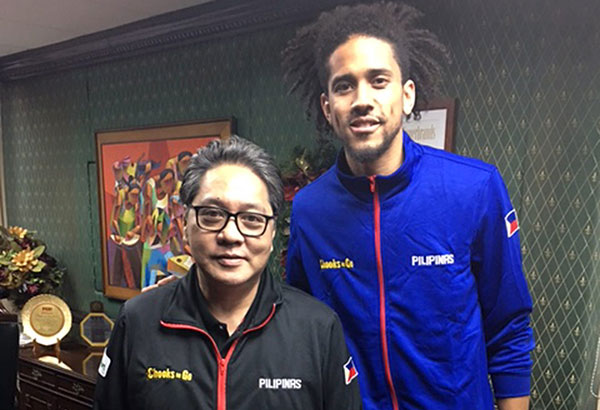 Bounty Agro Ventures president Ronald Mascarinas (left) and Gabe Norwood.
MANILA, Philippines — For the man who made Chooks To Go a byword, winning isn't as important as playing the game with respect. When Bounty Agro Ventures president Ronald Mascarinas signed a Memorandum of Understanding with Gilas head coach and TV5 CEO Chot Reyes a year ago to support the national team up to the 2020 Olympics, he knew qualifying would be a shot in the dark. But Mascarinas couldn't pass up the chance to back the journey that no matter its conclusion, would bring honor to the country.
To be honest, Mascarinas said the goodwill that supporting Gilas has generated is more valuable than whatever impact it has made on chicken sales. What motivated Mascarinas to get involved with sports was a passion to advance his advocacy of sportsmanship. At first, he looked for a college team to support. A friend of a friend referred him to UP varsity team godfather Dan Palami and for two seasons, Mascarinas took care of the Fighting Maroons in the UAAP.
"All I wanted was a team I could back to demonstrate true sportsmanship," he said. "I gave UP my all-out support, providing allowances and even bringing in Bright Akhuetie from Perpetual. In the preseason, UP won the Araw Ng Dabaw championship and I thought we were on the right track. But in a later game in Bulacan, things went wrong. I didn't like the way some players acted. I decided to end my support after this season."
Mascarinas sought UP assistant team manager Mel Macasaquit's advice on how to enhance his advocacy and from a brainstorming session came the idea of backing Gilas. A meeting with Reyes was arranged at the Wack Wack Golf and Country Club. Reyes had a tee-off time of 10 a.m. and agreed to meet Mascarinas two hours before. Mascarinas brought a draft MOU stipulating a four-year engagement. Reyes held back and said why not a one-year contract for starters. But when Mascarinas upped the ante to nine figures, the MOU was signed after 1 1/2 hours of negotiations.
Mascarinas and Reyes go back a long way. They were Purefoods employees in the early 1990s and Mascarinas took Reyes' spot as the company scholar in the Master's in Management program at AIM. Reyes declined the offer because it would've tied him down to Purefoods for two more years and his passion for coaching had already opened the door to a different career path. "I'm not sure if Chot knew me then," said Mascarinas, a Butuan City native who earned an agriculture degree at UP Los Baños. "He was in head office working in employee engagement at HR and I was in the farm in Sta. Rosa. I used to see him in corporate activities like our basketball intramurals." Who would've imagined that nearly 30 years later, they would shake hands in a common venture for love of country through Gilas.
Mascarinas, 56, said Chooks' support for Gilas extends beyond the team and into the personal lives of players. Gabe Norwood, for instance, said with Chooks watching his back, it takes away the pressure of attending to issues other than basketball. After the recent Gilas win over Chinese-Taipei, Mascarinas gave a bonus to two players beyond the usual team incentives – Norwood as the Ironman for 10 years of service and Allein Maliksi for sportsmanship. Mascarinas also gave a sportsmanship bonus to Carl Bryan Cruz after the Jones Cup last July.
"Boss Ronald is old school," said Macasaquit who now heads Bounty Sports. "He cares more about how you play the game than winning. To him, it's about respect for authority, the rules and the game itself. Some call it the Bounty Way but really, it's just the Filipino Way."
Chooks celebrated its first anniversary with Gilas last Dec. 5. "Year One has been very good to us as a brand," said Mascarinas. "But it's not just because of the mileage we got. Our family in Bounty has been reenergized because of our athletes. It's really inspiring to see and feel the support all around."