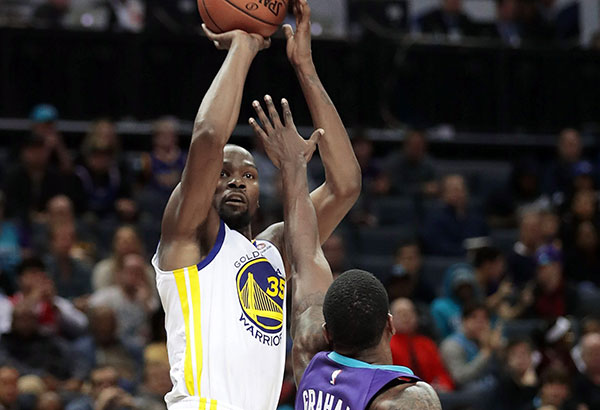 Kevin Durant of the Golden State Warriors shoots over Treveon Graham of the Charlotte Hornets during their game at Spectrum Center in Charlotte, North Carolina. AFP
Depleted Warriors lean on Durant vs Hornets
(The Philippine Star) - December 7, 2017 - 4:00pm
LOS ANGELES – Kevin Durant finished with 35 points, 11 rebounds and 10 assists for his ninth career triple double on Wednesday as the under-manned Golden State Warriors defeated the Charlotte Hornets 101-87.
The Warriors won their fifth straight and the seventh in their last eight games despite playing without superstar Stephen Curry and forward Draymond Green.
Curry sat out the contest after suffering a sprained ankle in New Orleans two nights ago. Green was a late scratch because of a shoulder injury.
Durant had 16 points in the first quarter, quickly setting the tone for the game at the Spectrum Center arena. He finished 13 of 28 from the field and hit three three-pointers.
Durant said his teammates did a good job of picking up the slack with Curry and Green out.
Elsewhere, LeBron James nailed a clutch three-pointer with 16 seconds left as Cleveland won a record-tying 13th straight game with a 101-95 win over the Sacramento Kings.
James finished with 32 points, 11 rebounds and nine assists as the win equaled a Cleveland franchise record.
There were about five seconds left on the shot clock when time was called with 20 seconds left and Cleveland clinging to a two-point lead.
Coach Tyronn Lue said he intended to call a different play in the huddle, but James wanted "Chicago," a play named for James' turnaround jumper at the buzzer in game four of the 2015 conference semifinals against the Chicago Bulls.
"So I said, 'OK,'" Lue said. "We got it to him, and he made a big shot. That was a huge play for us to put us up five." (AFP)