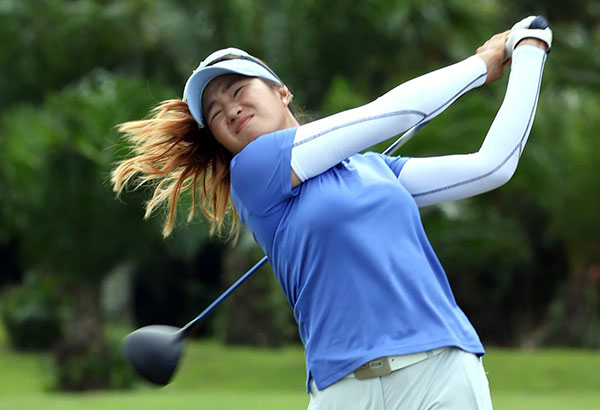 Renuka Suksukont - Joey Mendoza
Thai takes lead with 69; Phl bets falter
(The Philippine Star) - December 7, 2017 - 4:00pm
STA. ROSA, Laguna, Philippines — China LPGA campaigner Renuka Suksukont birdied three of the first four holes then hit an eagle to check an impending skid and seize a one-stroke lead over Taiwanese Hanna Chen with a 69 as the local aces faltered at the start of the $80,000 ICTSI Philippine Ladies Masters at The Country Club here yesterday.
Suksukont sizzled in the early going in benign condition in morning play then bounced back from a bogey and a triple-bogey mishap in the next two holes with a birdie and an eagle on Nos. 7 and 8, respectively. The 22-year-old Thai ace then fired two more birdies against a bogey at the back for a 34-35 card.
A slew of late starters from half of the 99-player field featuring seasoned campaigners from the China and Taiwan LPGA Tours took aim at matching or bettering Suksukont's three-under card but all failed with Taiwanese Hanna Chen birdying Nos. 11 and 12 to trail by one at 70.
"My aim was to hit the fairways and the greens and it's a good thing my game plan turned out well," said Suksukont, who has posted two top three finishes in the CLPGA this season. She drained three straight birdies inside six feet from No. 2 to gain early control.
But she found the Tom Weiskoph-designed layout's surface too sleek to handle in the next two holes, including the par-3 No. 6, which she four-putted for a 6.
"I just couldn't control my putt," rued Suksukont.
She, however, struck back with a birdie on No. 7 then hacked a solid 6-iron second shot from 174 yards to within six feet for an eagle on the eighth.
Earlier, Cyna Rodriguez and amateur Yuka Saso looked headed to dominating the first round action in the $80,000 event sponsored by ICTSI after the former gunned down three birdies in the first eight holes and the latter matching Renuka's two-under 34 start in the event that drew top players from the China and Taiwan LPGA Tours and the Ladies Philippine Golf Tour.
But they stumbled at the tougher backnine with Rodriguez, a former three-time LPGT Order of Merit winner, hobbling with a four-over card in the last four holes ruined by a double-bogey finish for a 73.
Saso, on the other hand, flubbed a couple of birdie putts and muffed a par putt from six feet, settling for a 71 for joint third with Taiwanese Wu Yi-ching and Lee Tai-ling, Thai P. Wirairungreung and fellow amateurs Hung Jo-hua of Taiwan and Hwang Min-jeong of Korea.
Despite a shaky finish, Saso said she was more than satisfied with her opening round game and expressed confidence of a big charge in the last 36 holes of the three-day championship co-organized by the LPGT and the China and Taiwan LPGAs.