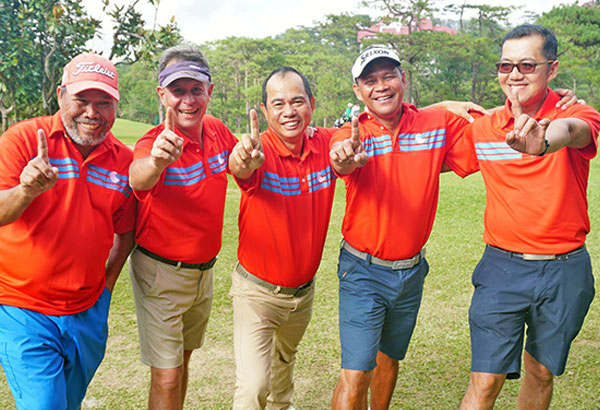 Luisita team members who topped the Fil-Am Invitational Seniors golf championship are Eddie Bagtas, Jingy Tuason, Rodel Mangulabnan, Ondoy Mondilla and Chito Laureta. Andy Zapata
Luisita coasts to Fil-Am Seniors sweep
(The Philippine Star) - December 7, 2017 - 4:00pm
BAGUIO CITY, Philippines — Luisita Golf & Country Club made an impressive return to the 68th Fil-Am Invitational Senior Golf Tournament by sweeping the Fil Championship and Am divisions at the Baguio Country Club and Camp John Hay layouts.
Eddie Bagtas had a tournament best four-under 40 points and Rodel Mangulabnan churned in a two-under for 38 points to power Luisita to a closing round of 141 and 507 total for a 30-point win in the Fil Championship over Manila Southwoods.
Jingy Tuazon collected 34 points and Chito Laureta submitted a 29 while Ondoy Mondilla didn't count with 27.
"Mission accomplished, we came back to the Fil-Am and even swept the top flights," said Luisita team captain Jeric Hechanova.
Raul Miñoza had an even par 36 points to pace Southwoods' 122 for a 477 total. Scorers for the team were Bong Sison (34), Judd Roy (29) and Sang Jin Lee (19). Kui Sun Moon did not count with 19.
Miñoza had rounds of 36, 35, 39 and 36, to take the individual title.
Megafiber had 107 points and 437 total to finish at third place. Former pro Rolly Viray finished with 30 while Rene Unson and Jose Mari Hechanova had 26 apiece and Bing Bunye had 25 points while Albert Garcia had 23 and did not count.
The Luisita Am squad leaned on the 30 points of Benjie Sumulong and the 28s of Raffy Garcia and Alan Alegre and the 25 of Dennis Canoy to complete the title romp with 111-452, 10 points ahead of Camp John Hay.
The host team was propelled by Fred Puckett's 31 points and Monet Garcia's 29 but could only take a 26 from Jung Sek Jun while Goody Ignacio did not count with 20 for 106.
Dugong Bughaw came in 42 points down for third place with 90-400 on Noel Marcellano's 25, Willy Princesa's 23, Ed Rendon's 22 and Edgar Lee's 20.
Nueva Ecija Seniors closed with a 95 for 373 and a six shot win over BCC in Seniors Fil A. Forest Hills made 84 and 328 total which is good for third.
Wednesday Club of Mimosa fired a closing round of 99 and a four-day total of 382 and a four-shot victory over Team Na Koa which also made a 99. San Miguel Corporation finished third after a 77 and 367.
Guam Kool Swingers bounced back on the last day and outshot overnight leader Teerifics 83-76 for a four-shot victory in Seniors Fil B.
Jeff Lowery closed out with 29, Noly Carino and Dan Ganacias had a pair of 21 and Willie Jamero made 12 points to count for the Guamanians which assembled a four-day total of 322 against Teerifics which had 318. Four shots down is Golf F – Veterans which is good for third place.
Paeng Ding saved the best for last as he scored 23 points to lead Baguio Country Club to 71 and 305 total for a 19-point victory in Seniors Am B. The co-host team got 17 from Reggie Gamboa, 16 from Mon Aldana and 15 from Alex Tan and led through out the tournament presented by San Miguel.