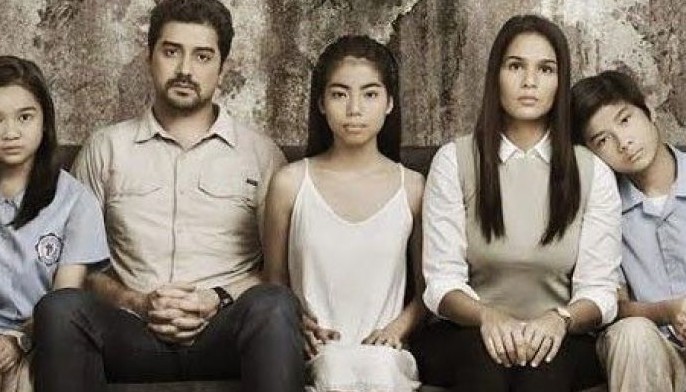 Xyriel Manabat, Ian Veneracion, Therese Malvar, Iza Calzado and Harvey Bautista of the horror film 'Ilawod'
Rom-com wunderkind tries hand at horror
Box-office director Dan Villegas dipped into the horror genre for the first time via Quantum Films' "Ilawod" which has Ian Veneracion and Iza Calzado in the lead roles.
In a recent press conference, the director of rom-com hits like "English Only Please" and "#Walang Forever" admitted he was kind of uneasy in trying out a different genre.
"It is not also nice to be doing just one kind of film genre. I also want to try to do something new, to experiment and to get to do other films," said Direk Dan.
Doing a horror project was something new for him. It was an incursion into the world of the unknown, so to speak.
"During the time I was editing the film, I was telling myself I could have done a different attack with regards to some of the scenes. It was a challenge to do a horror film but I thank God because I am working with a very good team," the director added.
When asked to compare helming a rom-com to filming a horror movie, Direk Dan said doing both genres was equally challenging.
"I am just more used to doing a rom-com movie but both genres have their own levels of difficulty. In a rom-com, even if you are already tired, you have to make the scene work. There has to be kilig factor. Minsan nauubos din ang kilig but you have to make it work," he explained.
"In a horror film, timing has to be perfect. I even use music during shoot to set the mood so that the reaction will be just right," he explained.
Now that he has done a horror movie, Direk Dan is willing to do another one again, possibly with Palanca-winning writer Yvette Tan who is his friend.
"I know she is a very good writer. I met her when I was still a cinematographer and I told her to write something. We should collaborate on a project and find a producer for it. When Atty. Joji Alonso of Quantum Films told me she wants to do something fresh, I told her that I want to do a horror film. I approached Yvette and asked her if she has a script that we can do. I remember our pact that we are going to do a movie together, so here it is," Direk Dan related.
He said they had a pleasant experience working with Ian and Iza, who also currently star in the new ABS-CBN drama "A Love to Last."
"We never had any problems with them. They are very professional, even with our young stars like Harvey Bautista, Xyriel Manabat and Therese Malvar. We couldn't have picked a more perfect cast. So even if we were working on a tight schedule, we were able to finish the film."
"Ilawod" is the story of a family's breakdown in the midst of a demonic attack. Dennis (Ian), a reporter, accidentally invites the ilawod – the water elemental that flows downstream – into his home, where it latches onto his young son, Ben (Harvey). What follows is a battle for not just the family's lives, but for their souls as well.
Aside from the fact that Direk Dan is a member of Ian Veneracion's fans club (as teased by Yvette Tan), Ian was really the production's choice as the film's male lead.
On Iza's casting, Direk Dan said he had long wanted to work with the actress in a film. Every time they bumped into each other, they would always talk about doing a project together. In one movie premiere, Direk Dan saw Iza and when she asked him anew about doing a film together, he told her about a horror project that he was set to do. Iza liked the script the moment she read it.
Direk Dan said that "Ilawod" was meant to be an entry to the 2016 Metro Manila Film Festival, but they experienced a delay in filming for a few exterior scenes due to storms.
"We had very few outdoor scenes but we always had problems with the weather, plus some of the schedules of our stars did not meet. That was the reason why we missed the filmfest deadline. But we are hopeful that people will watch us with our new play date," he added.
Does Direk Dan think "Ilawod" had a chance at the box-office had it been shown during the festival?
"Ah sana po, hoping for the best. Hindi ko po kasi kabisado ang horror kung paano siya tanggapin ng tao pero ang alam ko sa Pilipino, gusto natin natatakot tayo," he said.
"We tried to put the traditional elements of horror in the film but with regards to the approach, we changed it. May binago kami, but the core is still very Pinoy. Ang gusto namin sa story, yung horror babaunin mo sa pag-uwi. Mas naiiwan ang kwento sa iyo."