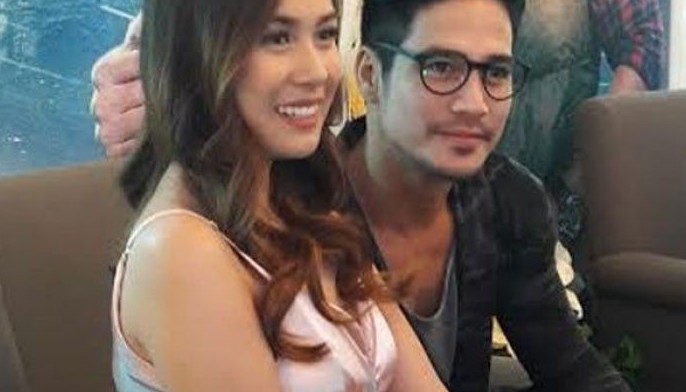 Yen Santos and Piolo Pascual
After 14 years, Piolo reunites with Regal Films
Piolo Pascual became emotional during the press conference of his latest movie, "Northern Lights: A Journey to Love," on Monday. Regal Films producer Lily Monteverde prepared a message for the actor and while she was reading it, Piolo burst into tears.
Mother Lily's message says, "The first time I met Papa P, I knew he was special. Not only do I find him to be a brilliant actor, he is a diligent one as well. His eyes speak of sincerity, his heart filled with compassion for others. Right there and then, I thought this guy would go a long way in his career. I was right. Fourteen years ago, Papa P did 'I Think I'm In Love' with Joyce Jimenez for Regal. And 14 years later, I wished he would do another movie with us. 'Northern Lights: A Journey to Love' is an answered prayer. Our common love and passion for the art led him to a new journey back to Mother Lily and Regal."
The lady producer added she was overjoyed that Papa P has returned to make a film with Regal.
For his part, Piolo said he was humbled by the love showed to him by the movie company executive. "I was moved to tears. I have been watching Regal movies ever since I was young. So when Ms. Roselle (Monteverde) called me up while I was driving on my way to 'ASAP,' I was overwhelmed," said the 40-year-old ultimate heartthrob.
"Mother Lily talked to me and she said just be happy. We have a very good movie. After I put down the phone, I told myself, 'Grabe, si Mother tumawag sa akin o."
Piolo said that he was reminded that these are the things that he ought to be thankful for. "You know, nakatataba ng puso that they exert an extra effort to make you feel good, to make you feel special."
"Northern Lights: A Journey to Love" – Piolo's first film this year – opens in cinemas on March 29. Directed by Dondon Santos, it also stars Raikko Mateo and introduces Yen Santos.
***
After the well-received Photo Diary, Fujifilm Philippines launched the Memory Lane album, a unique instax album made of thick-bordered pages where you can insert your instax prints.
The grand launch of the Memory Lane album kit was made more special with the presence of Fujifilm Philippines brand ambassador and proud instax fangirl Bea Alonzo, held at the Function Hall CDE at Crowne Plaza in Ortigas. Fujifilm Philippines' Circle of Influencers was also around to help guests design their own Memory Lane album using available craft materials.
"It will be exciting to watch everyone design their own Memory Lane album in creative ways," says Bea. Guests were encouraged to doodle on the sides, place stickers, even write haiku or short poems to make their albums not only unique but very personal and heart-rending.
Fujifilm Philippines is always thinking of new ways to preserve memories and make them last for generations. With the Memory Lane album, you can now keep in place that instax photo of a trip to Baguio to see flowers abloom at the Panagbenga Festival or that moment when your child wore a "toga" (graduation gown) at the school's commencement exercises.
"Our mission is to keep memories on hand and make sure that they would be available for future generations to gaze at," says Takuya Maeda, Fujifilm Philippines Division Head for Electronic Imaging and Photo Imaging.
"Filipinos love taking photos and Fujifilm acknowledges that. We have endeavored to help them preserve their memories in the best possible way, especially now since it is graduation and summer season, when people really need to keep important memories."
The Memory Lane album protects precious prints from dust, dirt, moisture and sunlight to reduce fading and ensure that they stand the test of time.
After all, that is the essence behind Fujifilm Philippines' efforts to capture memories instantly and produce the tangible prints in seconds. Memories are all about celebrations, occasions, and moments spent with family, friends, anyone you hold dear and consider family. And wherever and whenever there is something special you want to make last forever, an instax will be there, on hand and on cue.