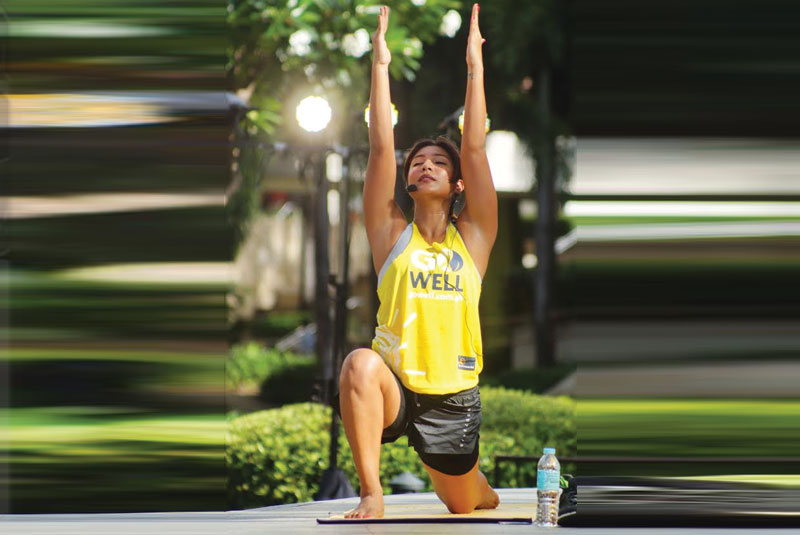 Actress-turned-yoga instructor Bubbles Paraiso leads an early morning yoga session at The Terraces of Ayala Center Cebu for Sun Life Financial's GoWell program. Photo by Yasunari Ramon Taguchi
How heartbreak led Bubbles Paraiso to yoga
CEBU, Philippines - It's the stuff of rom-com flicks: When she got her heart broken, Bubbles Paraiso went to Bali, Indonesia for introspection.
The month-long trip was meant to heal a heart in pain. In that foreign land, Bubbles did find herself, but she also found more than what she bargained for.
"I went to Bali to find myself, and instead I found yoga," Bubbles said in an interview last Saturday.
The former actress was in the Queen City to teach yoga as part of Sun Life Financial's GoWell program. Even in the early morning lull, the morena's voice echoed across the barren Terraces of Ayala Center Cebu, chasing away the somnolence brought by the lazy Saturday morning as she taught participants one yoga pose after another.
Contrary to the fast-paced life she had as an actress, the yogi revels in the freedom brought by her new lifestyle. By August, Bubbles will be back in Cebu to compete for her third race—Iron Man 70.3. The upcoming event will be her first full triathlon, since she only used to participate in relay events.
Bubbles shared how she passed by the Marcelo Fernan Bridge the day before and realized how the next time she'll be on that Cebu landmark, she'd be riding a bike and joining a major race. The young lady is excited, almost giddy with the fact that she's competing despite getting sick due to training.
But before becoming the health buff that she is now, Bubbles was an actress who ate everything she could get her hands on set.
"I guess I just grew out of it," Bubbles said when asked why she decided to quit acting. "I felt like I wasn't happy anymore. The roles that I was getting weren't heavy but I would always play the kontrabida. Ang hirap na parang galit ka lagi."
She said it was exhausting to often act mad or vengeful. Sometimes, she would find herself angry off-cam too. It had been somewhat difficult to get rid of the emotions that came with her characters, so she found an out through fitness.
"That's when wellness came in," Bubbles said. She had hated running so she got into yoga. But it wasn't until the big break-up with an ex-boyfriend who was a health enthusiast that brought her in deep.
At the time, Bubbles felt so suffocated that she knew she had to get away. So she booked a flight to Bali. There, overwhelmed by the fact that she was alone with no concrete plans but to escape, she thought she'd enroll in a three-month yoga teaching class. She was planning to open a studio back home anyway.
"In the long hiatus that I had, I did a lot of growing up," Bubbles shared on how wellness and eating right played a huge factor when she came back. "I felt that I was more stable. When the director says cut, I'm back to being bubbly again, I'm back to being myself no matter how heavy the role is."
The cheerful gal has that ex-beau to thank in one way or another—they might have parted ways and tears were shed, but Bubbles got to be a better version of herself.
She acknowledges that the experience seemed very "Eat Pray Love," a book-turned-film on travelling the world after a heartbreak.
"You know it happens. I looked at things through a lot of perspectives, I got to see the world. It was what I needed," Bubbles mused.
Like most of us, Bubbles still has guilty pleasures. She loves sweets, and isn't averse to junk food.
Bubbles says that the success and fulfillment she feels now has a lot to do with the people she surrounds herself with.
Bubbles is GoWell's ambassador for yoga, along with marathon star Jaymie Pizarro for running, Rovilson Fernandez for crossfit, actor and triathlete Piolo Pascual for cycling and strengthening, his son Iñigo Pascual as youth ambassador, and Tessa Prieto Valdes for zumba. The ambassadors are the epitome of health enthusiasts who live a balanced life: they campaign for health and wellness for those who do not spend their whole lives living for a sport.
"These ambassadors are real athletes, but at the same time lived a balanced life. They have other things that they are passionate about. When we thought of the people who would embody that, we thought of Bubbles instantly," said Jaymie, who described Bubbles as sunny, cheerful and hyperactive.
Bubbles describes herself as kaladkarin—going to running and cycling sessions and trying out new things when her friends tell her to, so long as she has company. Despite starting out slow among a crowd of pro athletes, Bubbles had not felt discouraged, and seconded Jaymie's sentiments of starting the journey as strangers but leaving the program as friends.
"The environment was so encouraging, even though ang bagal-bagal ko. They were all like, 'No! Kaya yan!'" Bubbles revealed, as she shared how Kuya Kim Atienza got her into running, an activity she used to absolutely hate.
"To think that these were tri-athletes who are fast. So na-pressure ako, all I could think of was 'goals.' I want to be like them."
She says that after spending so much time with her workout buddies, she had such a fear of missing out that she got herself her own bike.
Bubbles, a certified Tita who has long given up night-outs and parties, says that the ultimate high in her fitness journey would be the mundane daily workouts.
"It has more to do with feeling good than looking good, you know?" Bubbles admitted. "The looking good part just comes. The abs and the cuts on your triceps are just bonuses. One day you'll say, 'Hey! I lost weight without meaning to!'"
Bubbles said she is more positive now, more alive and stronger. "The real high is every after workout when all the endorphins are in your system. It's that high, and every day that's what you chase."
Yoga has also helped Bubbles recover from a car accident that sent her flying from the backseat to the front twice. It had happened four years ago, resulting to muscle trauma. Bubbles couldn't feel anything on her left leg, and wasn't able to walk for a while.
"I thought that was it for me. Yoga healed me, and now I swim, bike and run. Who would have thought?" Bubbles asked aloud.
She encourages everyone to try out yoga and persevere. Identifying as a modern yogi, Bubbles is not a purist—she lets off students who have a hard time with their poses, eats meat, and is still very much Catholic.
"I don't have dream roles in mind, not right now," the model said, adding how acting isn't on top of her list since she already got to do her dream roles anyway. "I'm much more picky with the projects that come my way at least."
The 28-year-old seems to have found her calling, and has so many things she wants to do. Bubbles, who runs a studio slash café, has a lot of encouraging things to say to those who are feeling a bit unsure with starting their fitness journey.
"Don't be impatient. It's not going to happen overnight. You will have your breakthroughs though. Just because you can't reach your toes today, not even tomorrow, doesn't mean it's never going to happen," Bubbles shared.
She herself took long to perfect her poses, recalling how older and heavier people did a lot better than her.
"It's a different journey for everybody. Never doubt yourself." (FREEMAN)