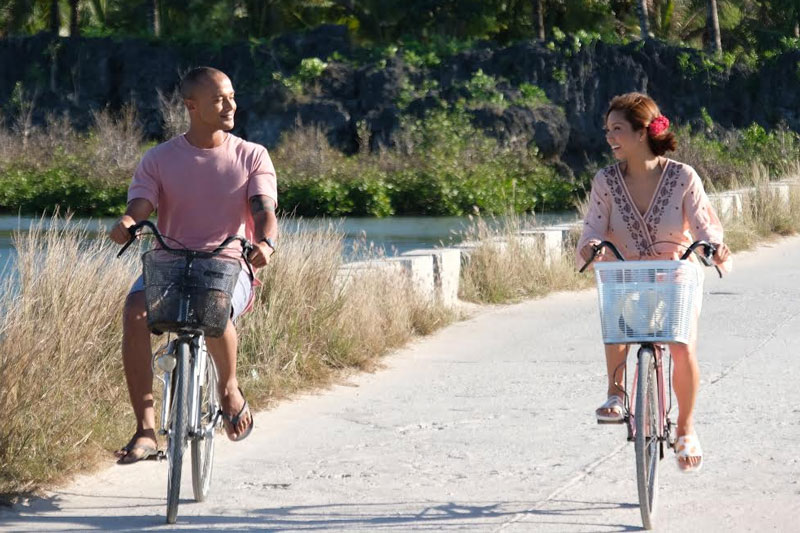 Real life sweethearts Will Devaughn and Roxanne Barcelo in a scene from the film "I Found My Heart in Santa Fe," shot in Bantayan Island, Cebu.
Santa Fe's beauty showcased in romance flick
It's September and it's time once again for Gabay Guro, the advocacy project of PLDT for teachers. It is now the 10th year of Gabay Guro and they continue to pay tribute to our teachers from all over the Philippines.
Dubbed as the Grand Gathering, the event will be held on Sunday, September 17, at the SM MOA Arena. Among the confirmed guests are Lea Salonga, Martin Nievera, Regine Velasquez, Ogie Alcasid, Gary Valenciano, Jaya, Sarah Geronimo, Marian Rivera, G Force, Michael Pangilinan, Jona, South Border, Jay-R, Luke Mejares, Medwin Marfil, UP Pep Squad, and other surprise performers.
As far as Gabay Guro is concerned, there is no network war. The three leading TV networks support the endeavor by allowing their artists to perform for free. Some of these artists had been supporting Gabay Guro since day one and readily say yes when asked to perform. It is for a good cause that's why these artists are always ready to join the event.
Hosting the Grand Gathering are Miss Universe 2015 Pia Wurtzbach, Andrew Wolfe and Pops Fernandez.
Aside from the entertainment numbers, prizes will be raffled off for the teachers who are expected to fill up the SM MOA Arena just like last year when more than 20,000 showed up. Among the prizes are two houses and lots from Ayala Land, a car from Foton, cash prizes and gadgets.
Gabay Guro Foundation is headed by Chaye Cabal-Revilla, with Gary Dujali as Brand Advocacy head. In its 10-year existence, Gabay Guro has received various awards.
Among these prestigious citations are the Gawad Tanglaw, two Anvil Awards in 2016, one from the Philippine Association of National Advertisers (PANA) and the Philippine Quill Awards.
Gabay Guro has over 1,200 scholars in various state colleges and universities nationwide. There are over 300 LET passers, 496 active scholars as of August 2016 and a projected 167 graduates in 2017. Gabay Guro also celebrates the fact that 137 scholars graduated with honors: 112 cum laudes and 25 magna cum laudes. Gabay Guro has also partnered with local government units to further teacher education.
The PLDT Gabay Guro grand tribute event is exclusive for teachers. Gates open at 12 noon. Admission is free. All they have to do is like Gabay Guro on www.facebook.com/gabayguro.
For more information, visit the Gabay Guro official website at www.gabayguro.com and follow them on Twitter and Instagram at @PLDTGabay Guro.
***
The Roxanne Barcelo-Will Devaughn starrer, "I Found My Heart in Santa Fe," had a successful celebrity premiere at Cinema 3 of SM City The Block last Saturday, September 9.
One admirable thing about the movie is its cinematography. It is postcard-beautifuI. Director Bona Fajardo was able to capture the beauty of Santa Fe by the use of a special camera. The shots showed how truly beautiful the place is. From close up shots, the camera zooms out to reveal the entire place and its majestic beauty. Santa Fe boasts of pristine white sand and crystal clear waters. The forest is also full of green trees – really a virgin beauty and a sight to behold.
The movie also makes good use of old songs like "Morning, Noon and Nighttime," to set the mood of the feel-good romance between the characters Jennifer (Roxanne) and Victor (Will). Roxanne also sang the songs used in the film.
"I Found My Heart in Santa Fe" is a feel-good movie. The film just wants to present a simple story from two distinct individuals – Jennifer who is nursing a broken heart, and Viktor, a German, who is in search of his Filipino roots. It is a simple love story and has no deep message to bore viewers. They just wanted to entertain their audience and share good vibes.
Because of its beautiful cinematography, you might find yourself wanting to book a flight to Bantayan Island to discover the place yourself. It is said to be one of the much sought out places for relaxation.
Since Roxanne and Will are real-life lovers, they hit it off well on the screen. There is undeniable chemistry and their acting came out natural.
If the past rom-com movies we've seen lately used "hugot" dialogues, in "I Found My Heart in Santa Fe," Roxanne and Will made use of their expressive eyes to convey their feelings for "kilig" and romance.
Of course, there is the much-awaited kissing scene between Roxanne and Will at the movie's final scene. After watching the film, you'd feel light and breezy because you feel the love shared by Jennifer and Viktor.
"I Found My Heart in Santa Fe" opens Friday in select SM theaters nationwide as part of CineLokal.