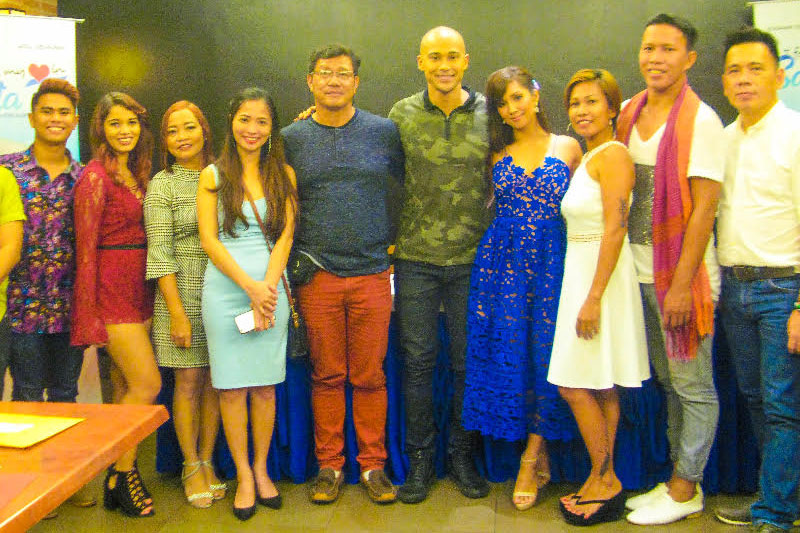 Director Bona Fajardo (extreme right) and his lead stars Will and Roxanne pose with Bantayan locals who were cast in their film "I Found My Heart in Santa Fe" during a press conference at Max's restaurant of SM City Cebu. Photos by Kristine Joyce Campaña
Falling in love with Santa Fe
Karla Rule
(The Freeman) - September 13, 2017 - 4:00pm
CEBU, Philippines — Despite unforgiving rain and inclement skies, art chooses no season to fill the gaps in life. It's way past the summer season but Santa Fe of Cebu's very own Bantayan Island is just as inviting as ever with a major motion picture set around its scenic milieus.
"I Found My Heart in Santa Fe" is a feel-good romantic comedy starring real-life couple Roxanne Barcelo and Will Devaughn. Directed by independent filmmaker Bona Fajardo, the film follows the romance between spunky island girl Jennifer, portrayed by Roxanne, and German-Filipino businessman and thrill seeker, Viktor, who is brought to life by Will.
Both characters deal with their own rocky shores: Jennifer is heartbroken and is afraid of being hurt despite her fierce and joyful disposition; Viktor, whose success in life can only be a dream to most, longs to find the woman who brought him into the world. Losing a bet with her friends, Jennifer takes Viktor on a tour around Santa Fe and the two get to know each other in the process. As Viktor finds himself enamored with Jennifer, the latter battles inner feelings of fear, confusion and vulnerability despite wanting to love again.
The idea for the film had been fashioned four years ago, but as director Fajardo puts it, the project was looking for the perfect location and perfect actors. When he came upon the beauty of Santa Fe last year, he was quick to get back into the drawing board with his production team and set to work, inspired by the idea of exploring more of Santa Fe and discovering the magic surrounding it.
"Yung storya ang pumipili ng artista, hindi kami. Walang ibang love team in mind, character lang sila Jennifer at Viktor. As a filmmaker, you don't look for someone who is famous, you look for someone who can give justice to the story," Fajardo says during a press conference at Max's restaurant of SM City Cebu after a red carpet screening at Cinema One.
The director explains that the reason they chose Roxanne and Will was because they believed in the effortless chemistry the actors had to naturally create a romantic comedy.
For Fajardo, the challenge was to let Roxanne and Will shake off their lovey-dovey emotions for each other in scenes where they have yet to get along.
Real star of the film
Roxanne and Will couldn't help but gush about Santa Fe, especially Kinatarcan Island, one of the main locations in the movie.
"Supporting actors lang kami ni Will sa Santa Fe," Roxanne begins, giving all the credit to the location's appeal.
As co-producers of the film, the sweethearts (they've been going steady for four years now) also expressed how grateful they are to become part of something as exciting as producing a full-length feature.
"I Found My Heart in Santa Fe" is the couple's first film collaboration together. Throughout their time working on the movie, Roxanne and Will were able to experience Santa Fe, spend time with the locals and even act alongside Cebuano talents.
"I can say that I am really happy to be part of this. Ang sarap sa feeling, and it's inspiring," says Will, who is of African-American, Filipino and German descent. "There are so many amazing people here, and the energy was loving and good. As a foreigner looking in, I'm excited."
The actor also praised the Cebuano on-cam talents, saying that it was never difficult to work with any of them and should there be a part two, he'd be game to see the same faces.
"It feels like the role was made for them and vice versa," Roxanne chimes in, specifically showering praise upon the actor who played her father. "Fit na fit, and every time na may retake, consistent sila. We received warm welcome from them, hindi mahirap. It felt like a normal set and it was so easy to work with them."
Tourism boost
With tourists, both local and international, expressing their excitement and awe of Santa Fe, you can only imagine what it's like for the Santa Fehanons and Cebuanos in general to have the limelight in their beloved hometown as location for the film.
Santa Fe Mayor Jose Esgana likened the municipality to a beautiful, kind and vibrant woman who welcomes visitors in a heartbeat.
"Kapag dumating ang opportunity for tourism, we give our all-out support. Throughout the film, we don't think about what happens next, we don't think about who's starring in it. Whatever we can do to show our support, we do it," he quips.
Mayor Esgana also reiterates that this project is not only meant to put Santa Fe on the map, but also aims to highlight all of the towns in the Cebu province in the hopes that people all over the world will choose the Philippines as their next travel destination.
Cebu Vice Governor Agnes Magpale also shared her appreciation for the production team and everyone behind the film for choosing Santa Fe, saying that the movie really showed the best of the town. In behalf of the Cebu provincial government, Vice Governor Magpale shares her willingness to support more projects like that of "I Found My Heart in Santa Fe."
"I wish the other towns will have the same luck as Santa Fe to get noticed by a good production. I've always been supportive of promoting Cebu in a wholesome way, and what better way to promote it than through a wholesome, feel-good movie," says Magpale.
The film, which will begin screening tomorrow under Cine Lokal in select SM cinemas, doesn't only show off Santa Fe, but also showcases Filipino culture and a much more meaningful relationship with nature.
Filipino values
Roxanne, who strongly identifies with her character for her intensity when it comes to love and pain, believes that the film shows family values and Filipino beliefs, as well as appreciating the often overlooked morena beauty of Filipinas.
"Tatay's girl talaga ako, and so is Jennifer. Sa film, pinapakita yung family values, and kung paano tayo nililigawan. Hindi porke't dayo ka, dapat kung ano yung tradition natin dito kailangan mo rin i-practice. Yung nililigawan ang tatay, barkada, and buong barangay. We're trying to highlight that process of courtship," Roxanne muses.
The "Wildflower" star goes on to say that other than believing in love, and waiting to become ready for it, the rest of the takeaway is left for viewers to realize for themselves as they allow their hearts to feel throughout the whole movie.
Roxanne wrote the song "Morena" alongside three other songwriters. The track was offered for the film, as an homage to the Filipino's love for music as well as to represent the beautiful, yet often overlooked, Filipina complexion.
When asked about their box office expectations, Roxanne and Will are hoping for the best but stress that whatever the turnout, the experience as actors and co-producers for the film were priceless.
As television actors who don't appear in films as much, they are ecstatic and grateful to have the chance to do what they love.
"I learned so much in the process, and nakaka-excite talaga. The fulfillment of not only being an actor but also being taken in by Direk and BluArt Productions—I learned so much, it was like going back to school. That alone is a huge thing for me, it's priceless," says Will.
Roxanne says that it had been such a joy to finally watch their handiwork with Cebuanos as the audience.
"The opportunity was a gift to us by God and we are so grateful. Hindi quantifiable yung experience. We were schooled from start to finish and we're taking notes as we speak. We did our very best everyday and everyone had pure intentions throughout making the film. Chill lang kami, wala kaming kailangan patunayan," the actress points out.
Roxanne, who looks forward to hearing what Cebuanos have to say, and is proud to have made her celebrity friends want to visit Santa Fe, hopes to see the positive effect brought by the joint work of the production, local government and media.
"This isn't done by one person alone. We seek for collaboration and help in any way. Pinoys are so creative, and we are constantly so inspired to create and for us the urgency comes from being inspired to promote this." (FREEMAN)