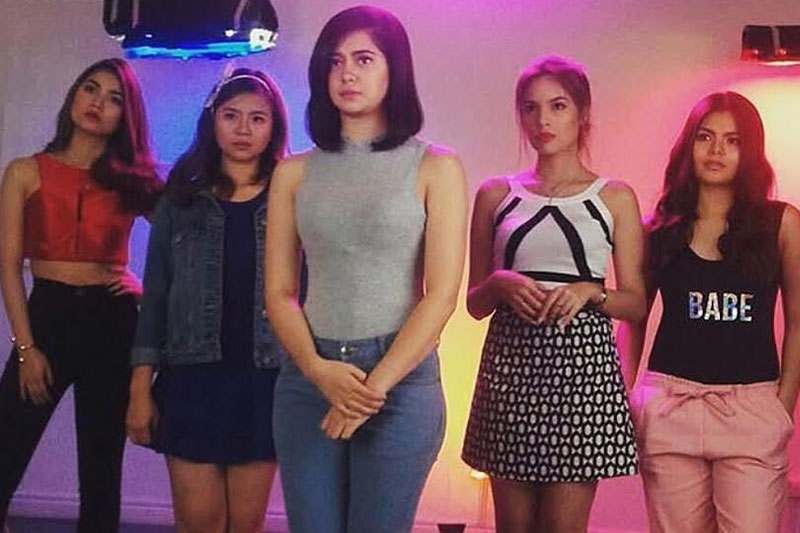 Jane de Leon, Miles Ocampo, Sue Ramirez, Michelle Vito and Chanel Morales star in the upcoming Regal Films horror flick "The Debutantes."
Director Prime Cruz, who was behind the horror flick "Ang Manananggal sa Unit 23-B," calls his latest film project "The Debutantes" under Regal Entertainment "color horror."
Written by Elmer Gatchalian, Renato Custidio and Jen Chuaunsu, "The Debutantes" is also a horror film. But instead of using black as the dominant color, Direk Prime and his cinematographer agreed to use different colors to give the film a vibrant cinematography to show contrast.
"Madalas kasi natin nakikita pag horror ay madilim. Black ang usual color. Dito we tried to use different colors. Ginawa namin na makulay at beautiful ang cinematography," Direk Prime said.
Countless horror films have been done locally and in Hollywood. Isn't he afraid that he just repeated the same scare tactics that have already been used?
"With the good number of films that have been showing, we can't say that every film is purely original. A certain film may have used a scary tactic that had been used before. What I can say is that we made our treatment suitable to the Pinoy sensibility," the director said.
"The Debutantes" stars Sue Ramirez, Miles Ocampo, Michelle Vito, Jane de Leon and Chanel Morales, dubbed as the "It Girls" of horror films. The film serves as the five millennial stars' biggest break under Regal Entertainment.
The story revolves around Kate (Sue), a friendless and weird-looking student who tries to win the friendship of fellow students Lara (Miles), Jenny (Jane), Candice (Michelle) and Shayne (Chanel).
She, however, fails miserably in that she only gets close to one of them, Lara, while the rest of the girls find immeasurable joy in bullying her around. Kate then experiences a nightmare and warns them about it, but they won't listen to her except for Lara.
"Sue has an internal struggle within her and that's where the horror emanates," said Direk Prime. "But each one of them has their own story and their respective highlight as well."
Direk Prime had a good time working with his young cast. "They help each other out in every scene. Maganda sila katrabaho kasi magkakaibigan sila," he added.
As a director, how did he make sure that each one has equal exposure? "I just followed what is written in the script. If in this scene, Sue needs to have a close-up shot, then I will give her a close-up. Same with the other cast members," the director explained.
How does he think the movie will appeal to millennials? "Maraming bagong elements dito na ngayon lang nila makikita. Marami silang makikita na bago sa kanilang panlasa. Plus the cast members are all millennials so that is a plus factor, I guess," he ended.
***
Ahwel Paz, the amiable co-host of Jobert Sucaldito in DZMM, continues to share goodwill. Last Sunday was the fifth year of his I Love My Family Medical Mission for the members of the media at the De Los Santos Medical Center.
Many members of the media (us included) woke up early than usual to troop to De Los Santos Medical Center to avail of free medical check-up.
For those wishing to have blood exam, we had to take 10-12 hour fasting before the blood extraction. Then after breakfast, you can have your urine sample taken for examination. Then you go to the second floor for the chest X-ray, then proceed to ECG and eye examination.
There is also a dentist if you wish to have your teeth examined. Then you can have one-on-one consultation with the doctors present who all volunteered to be part of the event. And all of these examinations were for free, including the eye glasses from Ideal Vision.
"Health is wealth and I will continue doing this medical mission for the members of the media," said Papa Ahwel as a thanksgiving for his birthday.
Papa Ahwel would like to thank the following for believing and supporting his cause: The Executive Office, Administration and Medical Staff of De Los Santos Medical Center namely Raul C. Pagdanganan (President and CEO), Dr. Nilo Santos (Vice President for Medical Affairs), Dr. Lysander Ragodon (Vice President for Business Planning and Development), Dr. Estrellita J. Ruiz (Chief of Clinics), Noemi Irasuta (Vice President for Finance) and Marc Funelas (AVP for Marketing). He would also like to thank Dr. Jessica Dee, IDEAL Vision and Oasis Dental Care.