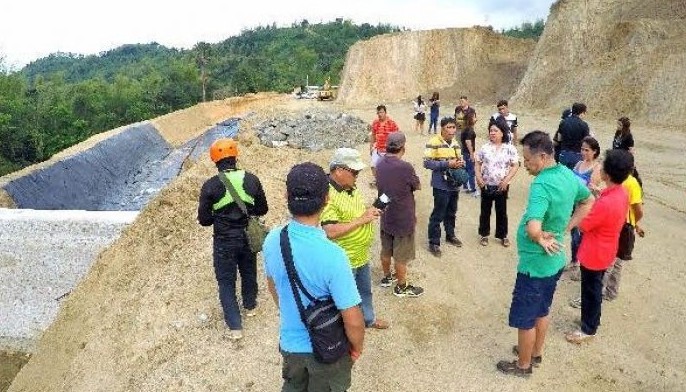 City Councilors Joel Garganera and Pastor Alcover Jr. check a reported illegal quarry site in Barangay Binaliw.
Kristine Joyce W. Campaña
EMB-7, barangay execs stop 'illegal quarrying'
CEBU, Philippines - The Environmental Management Bureau (EMB)-7 and the barangay officials of Binaliw have issued a cease and desist order (CDO) against the 'illegal quarrying' on the proposed construction of a Material Recovery Facility (MRF).
This after lot owner Milagros Englis approached Councilor Joel Garganera, who heads the City Council environment committee, on what action to take after she noticed few weeks ago that her lot was used without prior approval from her.
With this, Garganera referred the matter to Binaliw village chief, Wilson Bacor, and to EMB-7 for their action.
Upon receiving the complaint, EMB-7 said its office is conducting an environmental assessment on the proposed project of ARN Builders Incorporated when it asked for an Environmental Compliance Certificate (ECC).
Because of this violation, EMB-7 and the barangay automatically issued a CDO dated March 27 to stop the illegal quarrying of the area.
"Finally, in order to prevent grave or irreparable damage to the environment, you are hereby directed to immediately cease and desist from further conducting any development activities until you have secured an ECC and other environmental permits," reads the order signed by Engineer Anecita Dinoy, EMB-7 Officer-in-Charge.
"Pursuant to the letter sent by Milagros C. Englis dated March 20, 2017 requesting the barangay to facilitate (the) temporary stoppage of the earth moving activity in her lot. The operation lacks (the) agreement between the lot owner Milagros C. Englis and the developer," barangay CDO reads.
Garganera, who conducted an ocular inspection, divulged that the developer did not heed the CDO from the two offices after he saw that there is still a development in the area.
"Dakog kausaban. Daghang nahanaw nga bukid, walay ngipon ang EMB sa ilahang lagda. Nagsige lang gihapon ni kay lahi naman ni sa katong recent visit nako pag-Sunday. Well it's an indication how helpless ang agency (EMB-7), grabe ang extraction ug quarrying sa area," Garganera added.
He believes that there is someone who could be behind in the "illegal" quarrying, saying that the developer reportedly did not heed the order of EMB-7 and the barangay.
Garganera did not believe that the purpose of the project was to put up an MRF after he learned that the application of ARN Builders with EMB was for a sanitary landfill.
In a separate interview, Englis said the developer did not even ask her approval to build such facility, adding that they did not have a talk about the plan to buy her property that is about two or three hectares.
"Giabusohan ang amoang katungod, naa gyuy dautan nga intention. Na-flattened na ang akoang bukid nga naay mga tanom sama sa manga, santol, tugas ug uban pa," she said.
Because of what had happened, Englis is now consulting her lawyer on what legal action she can take, knowing that the developer touched her property without undergoing the appropriate process.
"Andam mi ana (filing a complaint) tungod sa damages sa amoang yuta, wala sila'y ECC sad," she added.
Garganera and Councilor Pastor "Jun" Alcover, who heads the council committee on agriculture and rural development and committee on labor, employment, cooperative and livelihood, said it is high time that the Mining Regulatory Board should be convened to address the matter.
The establishment of such facility without acquiring the necessary permits violates environmental laws and mining regulations.
Either Garganera or Alcover will raise the matter before the other members of the City Council in their session this Tuesday.
The FREEMAN called but failed to get the side of Engineer Arnold Espinoza, president of ARN Builders Inc. (FREEMAN)