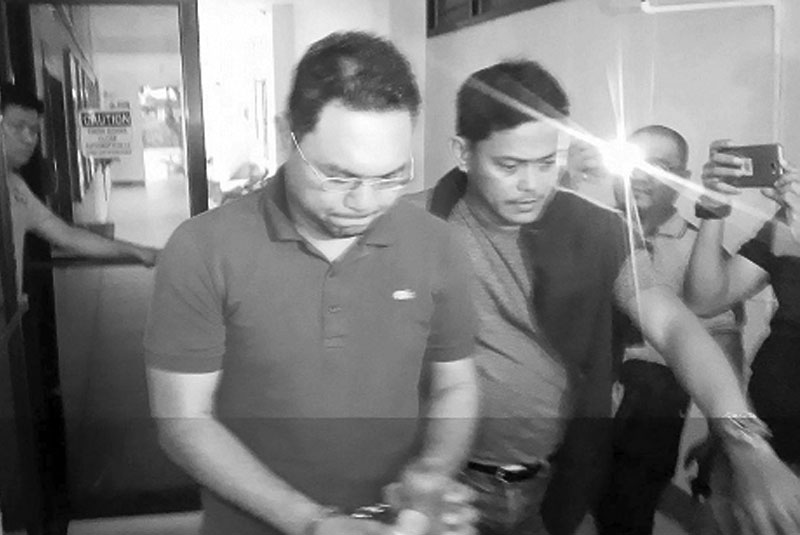 Following allegations of coercion, the camp of Bohol Board Member Niño Rey Boniel who is facing charges for his wife's death are now accusing the police of maltreating witnesses in the case. Camille Pateres
Police say strategy is absurd, pathetic: Cops employ torture - Lawyer
CEBU, Philippines - Following allegations of coercion, the camp of Bohol Board Member Niño Rey Boniel who is facing charges for his wife's death are now accusing the police of maltreating witnesses in the case.
Niño Rey's lawyer, Gerardo Carillo, said the police allegedly tortured witnesses under its custody.
"That is why we request the Commission on Human Rights to assist us," Carillo told The Freeman yesterday.
"Nag-andam pa mi og mga documents to summon CHR's assistance," he said.
Carillo said they also cannot access the witnesses' medical certificates as these are under police safekeeping.
Niño Rey's cousin, Riolito "Etad" Boniel, and driver Randel Lupas, as well as the best friend of his wife, Angela Leyson, and Leyson's 17-year-old son, are among the witnesses who tagged the board member as mastermind in the killing of Gisela.
Gisela's body was then dumped into the sea off Mactan Island in Cebu, wrapped in a net and weighed down by rocks.
Not a game show
Senior Supt. Jonathan Cabal of the Regional Intelligence Division of the Police Regional Office (PRO) - 7 said Carillo is but hijacking the witnesses.
"Atty. Carillo is imagining things. The battery of lawyers of BM (board member) are grasping up at straws. They're making a travesty to our criminal justice system. They've already made three actions - two waivers of detentions and filed one habeas corpus, all of which were withdrawn. This is not a game show like 'laban or bawi' where they can do as they please, flip-flopping every now and then," Cabal said.
Earlier, Cabal denied they intimidated the witnesses to testify against Niño Rey, calling the allegations as ridiculous.
"(And) now this torture card? (It is) so absurd and pathetic strategy. I'd rather ask them that they convince their client to own up to the crime and spare those accomplices whose lives were destroyed by their client's selfishness. Imagine, he's a multi-millionaire while his underlings have no hand-to-mouth existence? And now, they languished in jail for his crime? Poor people…instead of them happily spending father's day with their kids, now they find themselves behind bars. Tell me, who, in effect, violated human rights?" Cabal added.
Caution
Meanwhile, lawyer Inocencio Dela Cerna who is representing the four other suspects who remain at large reminded the police that no arrest warrant was ever issued against them.
The four are Lubo Boniel, Allan Delos Reyes, Jr., Wilson Revilles Hoylar and Brian Boniel Saycon.
"I caution the police and the RID chief in this call for them to surrender as the four are undergoing preliminary investigation," Dela Cerna said.
He said he will not hesitate to file administrative charges against those who will arrest the four in the absence of a warrant.
"Reckless and irresponsible statements such as these are putting the lives of my clients in danger. I urge the RID-RSOG and concerned police agencies to consult first their lawyers," Dela Cerna said.
Cabal, for his part, said: "No caution was made. Walang ganyan. He is making up stories. They can never suppress the truth. No amount of highly-paid 'brilliant' lawyers can subvert the ends of justice as long as the truth is on our side," Cabal said.
False report
In Bien Unido, Bohol, Senior Inspector Librado Bigkas, chief of Bien Unido Police, called on the public to stop sharing unverified reports that Gisela's body has been found at the Nuknukan Island in Talibon town.
"Negative man to (ang report). Ultimo ang kapitan didto kay wala man nakahibawo," Bigkas said.
"Kasagaran mag-post ana, wala kahibaw kung unsa katinuod. Ayaw mo post diretso. Report dayon mo sa pulis," Bigkas urged the public. — /JMO (FREEMAN)