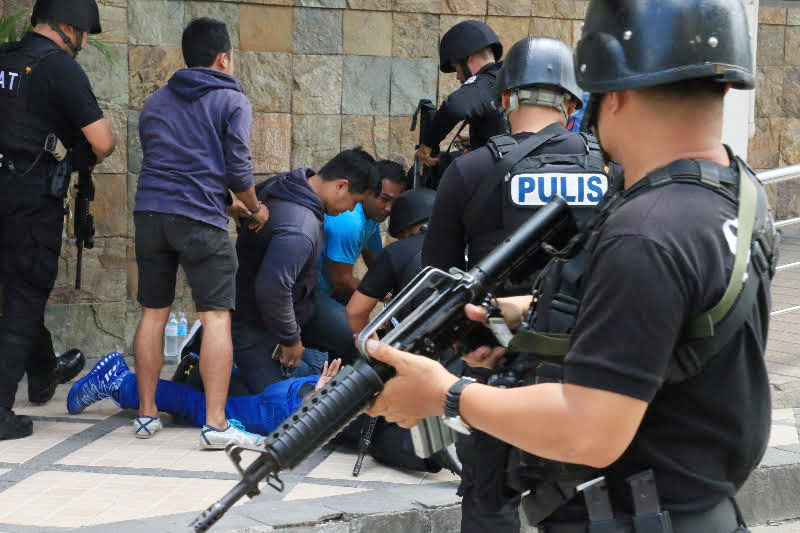 Members of the Special Weapons and Tactics (SWAT) team in Lapu-Lapu City show their skills to subdue a criminal during a simulation exercise yesterday. Joy Torrejos
Citing lack of training among journalists: Espenido not in favor of having media in ops
CEBU, Philippines — Police Chief Inspector Jovie Espenido does not favor tagging along media practitioners in police operations.
Espenido said that asking the members of the press to join in police operations will put the lives of journalists in a vulnerable position because of lack of training.
Espenido is widely known as the police officer who led operations that killed Ozamiz City Mayor Reynaldo Parojinog during an anti-drug operation.
He said that if police are being true to abiding the standard operating procedures, there is no need for the media to accompany them.
"Bisan gani og di pakuyogon basta tarung lang ang pulis. Pero kung inyong gusto gyud, ang ako gud kay to protect the life and property of yours. Magpulis lang sa siguro mo para naa moy rason moadto.Pero delikado baya mo (reference to reporters) ana," Espenido said.
On the issue of a memorandum of not giving spot reports to reporters, both Espenido and Police Regional Office-7 Director Jose Mario Espino assured that reporters will still receive information.
Espenido said that he ordered his men to photocopy press releases for distribution to the reporters, emphasizing the importance of disseminating the information.
"Naa pirmi oy. Di na lang gani nako pakopyahon. Taga-i og copy ang media (an order to his men). Photocopy kay kapoya nang media sige'g suwat-suwat. Unsa may naa ana? Kailangan gyud mo makahibalo, para mapahibalo ninyo sa uban," Espenido said.
Espino, for his part, said that the text memorandum was misunderstood by some policemen.
He clarified that the spot report meant on the text memorandum was the classified files only meant for internal circulation.
He also assured that media are not curtailed to seek information, however, classified files are not given freely and should be requested formally.
"Misunderstood yung directive, kasi pati yung blotter di na pinapatingin, na kahit pag-ask ng question ayaw na mag ano ng pulis. Mali yon. Ang sinasabi lang duon, bawal magbigay ng official PNP records, like spot report, after activity report, lalo na pag case folder. But yong media can always ask question sa Chief of Police about sa incident," Espino said
He stressed that the chiefs of police stations are trained on media relations and are considered as the best information officer in a police detachment.
"The Chief of Police is the number one police information officer of the police station. May directive kami diyan any incident and issue the COP (has) to answer question na pino-post ng media," Espino said. (FREEMAN)