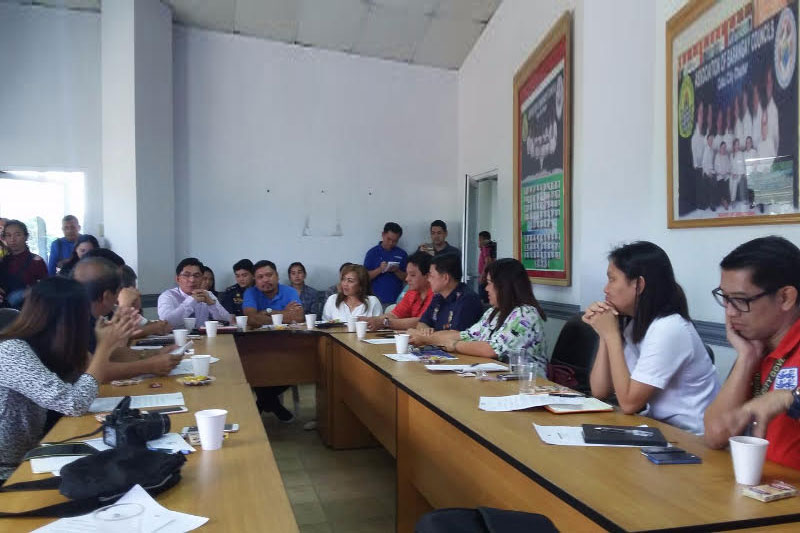 Barangay and police officials in Cebu City agree during a meeting with the Commission on Human Rights yesterday to stop the shame campaign in the fight against illegal drugs. Rowena Capistrano
As humane way is sought: Shame drive vs drugs halted
CEBU, Philippines — Saying that it is discriminatory, officials in Cebu City have agreed to shelve the controversial anti-drug shame campaign as they formulate new methods that will conform to the principles of human rights.
"(An) important point we came up with is the commitment from the barangay level not to pursue with the program of poster-posting or spray-painting at houses identified as drug den or drug-free as it appears to be discriminatory," said Atty. Arvin Odron, director of the Commission on Human Rights (CHR) - 7.
He said those present at the inter-agency dialogue on Wednesday morning agreed to change the course of the implementation of the anti-drug campaign in the city.
"Integrating, this time, the time-honored and legally recognized human rights standards," he said.
The dialogue was initiated by CHR-7, which has been vocal in its opposition to the sticker campaign.
Barangay Ermita in Cebu City was the first to grab the headlines earlier this month when its officials posted on houses stickers that bear the words, "This house is a drug free home."
Ermita Barangay Captain Felicisimo Rupinta and other barangay officials were present at the CHR dialogue.
Junard Chan, the barangay captain of Pajo in Lapu-Lapu City, was also present at the meeting.
Chan's barangay also became controversial when houses there identified as drug dens were sprayed with the words, "Identified Drug Den".
Philip Zafra, president of the Association of Barangay Councils (ABC) in Cebu City, said the open-table conference was meant to thresh out issues on the plan of barangays to post "drug free" stickers on houses reportedly not involved in illegal drugs.
Zafra said the matter is important, considering that the drive against illegal drugs has been gaining ground.
"It proves that there are many who are against (illegal) drugs compared to the few who are into it… (But) it has been agreed to temporarily put on hold the posting of stickers until our next meeting next week," he said.
He said he understands CHR is only following its mandate and commends the agency for helping the barangays go about the campaign.
Emma Joyevelyn Calvo, officer-in-charge of the Department of Interior and Local Government (DILG) in Cebu City, agrees with Zafra. She said she respects the intervention of CHR.
Odron said the sticker campaign infringes on a person's human rights.
"Residents of a house with no 'drug-free' stickers may be unduly discriminated and tagged as drug-users or pushers without due process of law guaranteed by the Constitution… This also violates the right of any person to be heard before he or she is condemned. A person's honor, as well as the reputation of his or her family, would also be harmed," he said.
Meanwhile, Cebu City Mayor Tomas Osmeña said there is nothing wrong with the dialogue and the agreement but CHR, by itself, cannot stop what the barangays do.
"They can always meet. We have a democracy just like you are asking for my opinion, and they are entitled to their opinion," he said. — with Odessa O. Leyson (FREEMAN)